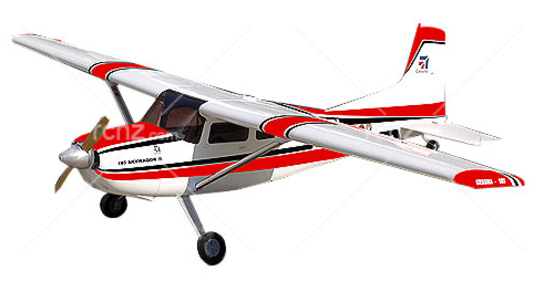 ESM - Cessna 185 84" ARF Kit
Manufacturer: ESM Warbirds Product Code: 5942
---
W002 Cessna 185 84" ARF kit

Dispatch
Special Order - Please Enquire
Cessna 185

Epoxy resin fiberglass fuselage and cowl. Built up and covered balsa wing with solartex fabric, painted and clearcoated for a superior finish
PLEASE NOTE FREIGHT IS $50 FOR THIS PRODUCT

SPECS
Length: 1550mm(61")
Wing span: 2200mm(86.6")
Wing area: 55.3sq.dm(5.95sq.ft)
Wing loading: 117.5g/sq.dm(38.5oz/sq.ft
Flying weight: 6.5kg(14.3lbs)

GEAR REQUIRED TO COMPLETE
Engine : 150-180 4 stroke or 26-30cc petrol
Prop
Spinner
Radio : 6+ channel
Servos : 4 x high torque, 5 x STD servos
extension leads
Y harness
Receiver Pack
Switch harness
Ignition battery (petrol only)
Ignition cutoff (optional)
Glue
Field equipment

Experience Level : Intermediate/Advanced
Recommended Environment : Bigger airfields
Assembly Time : 20+ hours
Included with kit : All hardware (horns/pushrods/linkages etc). Rivet detail and panel lines make for a great scale subject.


NOTE:- All ESM aircraft are as close to scale as practical, and may require extra nose weight to get the CofG in the right place. We recommend you check CofG location of all aircraft before flying.
Latest Products
You may also like