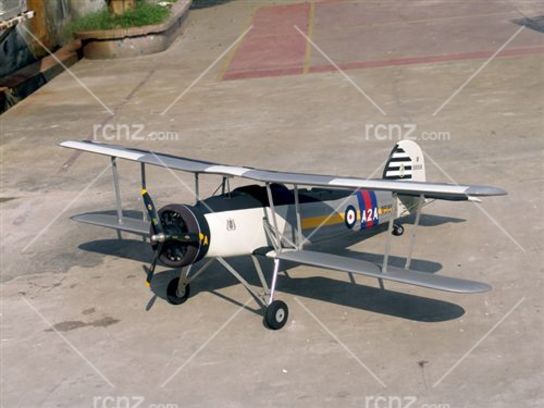 ESM - Fairy Swordfish 85" ARF Kit
Manufacturer: ESM Warbirds Product Code: ESM-W033
---
W033 ESM - Fairy Swordfish 85" ARF kit includes missiles, suspension feet and hood

Dispatch
Special Order - Please Enquire
The Fairey Swordfish had a long and successful operational history and won many Battle honors in WWII. Some of the most memorable action was the attack to Italian fleet in Taranto's seaport on 11 November 1940, when 4 ships (of that 2 were battleships) were sunk and other were damaged by two waves of 21 Swordfish that took off from the carrier HMS Illustrious. Only 2 aircraft were shot down in the attack. From 1940 to 1945, the Fleet Air Arm sank 18 Axis submarines and shared 16 other sinkings with escort vessels or RAF units. The Swordfish was responsible for 15 of the 18 solo kills, and participated in 10 of the 16 shared sinkings. That is quite a record for an airplane that was considered obsolete at the time the war broke out.

The Swordfish made another historical strike in May 1941 from HMS Ark Royal. This mission was vital in damaging the German battleship Bismarck, preventing it from escaping back to France. The low speed of this type of attack aircraft may have acted in their favor, as the planes were too slow for the fire-control systems of the German gunners, whose shells exploded so far in front of the aircraft that the threat of shrapnel damage was greatly reduced. The Swordfish also flew so low that most of the Bismarck's flak weapons were unable to depress enough to hit them. The Swordfish aircraft scored two hits, one which did little damage but another disabled the Bismarck's rudder, causing the ship to steam in circles, thus sealing its fate. The Bismarck was destroyed less than 13 hours later. The last operational mission of the Fleet Air Arm Swordfish was flown on 28 June 1945.
PLEASE NOTE FREIGHT IS $50 FOR THIS PRODUCT


Features:
- Fiberglass cowling
- Fiberglass Fuselage
- Balsa and ply construction wings and tail
- Expertly covered in cloth and match painted
- Hand painted details
- REPLICA Scale Type Landing Gear
- Cockpit tub
- 40-50cc size BIPLANE


Specifications:
Wingspan: ~85.4 inches
Fuselage: ~67 inches
Weight: ~ 19.8-22.50 lbs
Engine req: 1.80 4 stroke or 40cc-50cc Gas
Radio req: 6 channel w/6+ servos

Includes:
Fixed oleo landing gear, wires, tail wheel assembly, wheels, servo trays, engine mounts, fuel tank, fiberglass cowling, and hardware. Also included are a bomb and dummy engine cover.


Latest Products
You may also like