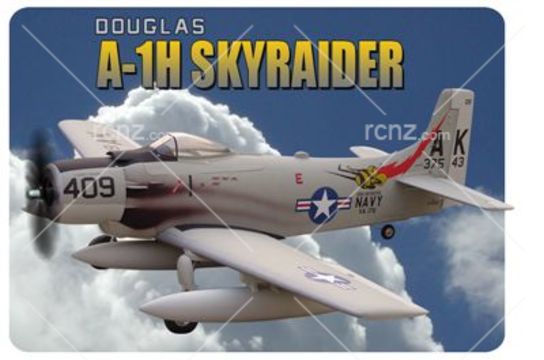 ESM - Skyraider A-1H 70" ARF Kit
Manufacturer: ESM Warbirds Product Code: ESM-W015
---
W015 Skyraider A-1H 70" ARF kit

Dispatch
Special Order - Please Enquire
Douglas A-1H Skyraider

History

The A-1 Skyraider was initially developed during WWII to perform as a carrier based long-range torpedo/dive bomber. It missed the second world war by a few months, but quickly proved itself as a reliable performer, capable of carrying a tremendous amount of ordinance on seven hardpoints on each wing, while maintaining excellent low speed maneuverability. It could loiter on target for much longer periods than faster aircraft and deliver its substantial load of ordinance with greater precision.

These design characteristics resulted in it seeing substantial combat in Korea, and later in Vietnam, where it proved extremely beneficial. Although the USN and USMC were beginning to phase out the Skyraider in favour of the A-6 Intruder, it continued to see substantial service, with many being transferred to the USAF where they were used in a close support role, particularly with the Air Rescue and Recovery Service where they protected downed pilots until HH-3 Jolly Green Giants were able to extract them to safety. It also saved the lives of hundreds of servicemen who were facing imminent harm, thanks to its ability to deliver ordinance in close proximity to ground forces. At least two USAF pilots received the Congressional Medal of Honor for actions they undertook while flying the Skyraider.
About this Model's Paint Scheme

ESM is releasing this model in the livery of VA 176, the thunderbolts, who while operating A-1H Skyraiders from the carrier USS Interpid over Vietnam in a RESCAP mission, engaged a flight of 4 Mig-17 jets, and scored one confirmed kill, one probable kill and damaged a third, forcing the Migs to retreat from the area. Part of the reason for the success was that the engagement occurred at very low level, in an area covered by high hills. This allowed the skyraiders to use their low speed maneuverability to their advantage.

Features:
-Fiberglass fuselage
-Fiberglass Cowling
-Fully built up wings and tail covered with Solartex Fabric and airbrushed with a matching finish
-Scale details molded into fiberglass parts, including panel lines and rivets.
-Pre-applied decals, covered with clear coat.
-Functional flaps.
-100% Laser cut wooden parts
- Also includes: wheels, servo trays, engine mount, fuel tank, decals and all hardware.
-Illustrated instruction manual included.

Wing Covering Material: Covering, painted, decals applied and clear coated. The aircraft has a beautiful flat, non-glossy finish. This is superior to glossy covering materials. It is scratch, tear and wrinkle resistant. The covering material is a brand name covering which has a special paint adherant layer. The covering goes on clear, and is then primed and painted, then clearcoated.
PLEASE NOTE FREIGHT IS $50 FOR THIS PRODUCT

Length: 1380mm(54")
Wing span: 1800mm(70.9")
Wing area: 56.6sq.dm(6.09sq.ft)
Wing loading: 97.2g/sq.dm(31.9oz/sq.ft)
Flying weight: 5.5kg(12lbs)
Engine : 120-180 4 stroke or 26-30cc petrol
Radio : 6+ channel
Servos : 4 x high torque, 4 x STD servos
retracts and control gear
Prop
Spinner
extension leads
Y harness
Receiver Pack
Switch harness
Ignition battery (petrol only)
Ignition cutoff (optional)
Glue
Field equipment

Experience Level : Intermediate/Advanced
Recommended Environment : Bigger airfields
Assembly Time : 20+ hours
Included with kit : All hardware (horns/pushrods/linkages etc). Rivet detail and panel lines make for a great scale subject.


NOTE:- All ESM warbirds are as close to scale as practical, and may require extra nose weight to get the CofG in the right place. We recommend you check CofG location of all aircraft before flying.
Latest Products
You may also like