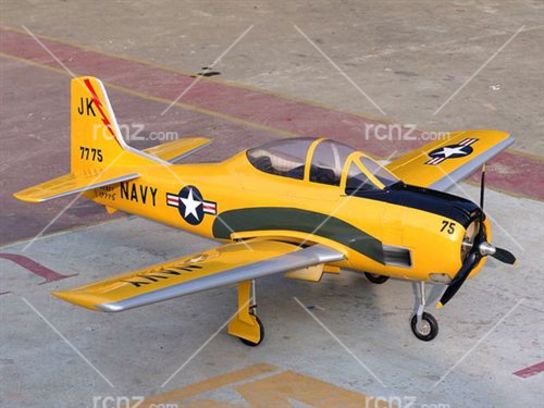 ESM - T-28 Trojan 80" ARF Kit
Manufacturer: ESM Warbirds Product Code: 5969
---
W035 T-28 Trojan 80" ARF kit

Dispatch
Special Order - Please Enquire
T-28 TROJAN History
When the United States Air Force set out to replace its aging T-6 Texan trainers, North American was hired to complete the task. What they presented was the Model NA-159 piston-engine trainer; a design that was so successful that it was responsible for gaining a contract for two XT-28 prototypes. After an evaluation of these prototypes and an initial flight on September 26, 1949, the Air Force was so impressed that it ordered production to begin on the newly designated T-28A.
The Trojan, as it became known, had a frameless canopy and a Wright R-1300 engine that, when combined, gave it a top speed that often exceeded 280 mph. First orders of 266 planes in 1950 eventually grew to 1,194. After it became evident that the Air Force had found a very successful design, the United Sates Navy and Marine Corps adopted it as well. Two years later, 489 standardized versions (T-28Bs) were ordered by the Navy, mainly differing from the T-28A in its use of the more-powerful Wright R-1820-86 engine. Following this, 299 T-28Cs were produced, which were fitted with an arrester gear for carrier-deck landing training.
In 1962, North American began supplying T-28Ds for the counter-insurgency role. Six underwing hard-points were added in order for the aircraft to accept a variety of weapons. The T-28 saw action in both Southeast Asia and North Africa. The attack trainer version of the T-28D was called the AT-28D. France's Sud-Aviation converted over 240 T-28Ds into Fennecs and used them as replacements for their Algerian-based T-6s. Fennecs performed admirably in the close-support, reconnaissance and patrol roles.
The T-28's service career, though long, was finally ended by the introduction of the T-34 turboprop trainer, but the T-28 lives on as one of the most popular piston-powered warbirds in the USA, as well as several other countries.
Features:
-Fiberglass fuselage
-Fiberglass Cowling
-Fully built up wings and tail covered with Solartex Fabric and airbrushed with a matching finish
-Scale details molded into fiberglass parts, including panel lines and rivets.
-Pre-applied decals, covered with clear coat.
-Functional flaps.
-100% Laser cut wooden parts
- Also includes: wheels, servo trays, engine mount, fuel tank, decals and all hardware.
-Illustrated instruction manual included.

Wing Covering Material: Covering, painted, decals applied and clear coated. The aircraft has a beautiful flat, non-glossy finish. This is superior to glossy covering materials. It is scratch, tear and wrinkle resistant. The covering material is a brand name covering which has a special paint adherant layer. The covering goes on clear, and is then primed and painted, then clearcoated.
PLEASE NOTE FREIGHT IS $50 FOR THIS PRODUCT

Length: 1613mm(63.5")
Wing span: 2057mm(81") IMAA and MANZ legal!
Wing area: 70.12sq.dm(7.55sq.ft)
Wing loading: 117g/sq.dm(39.5oz/sq.ft)
Flying weight: 8.2kg(18 lbs)


Engine : 180-200 4 stroke or 26-50cc petrol
Radio : 6+ channel
Servos : 4 x high torque, 5 x STD servos
retracts and control gear
Prop
Spinner nut
extension leads
Y harness
Receiver Pack
Switch harness
Ignition battery (petrol only)
Ignition cutoff (optional)
Glue
Field equipment

NOTE: We recommend using a battery backup system like the Spektrum AR9100 for this size aircraft.

Experience Level : Intermediate/Advanced
Recommended Environment : Bigger airfields
Assembly Time : 20+ hours
Included with kit : All hardware (horns/pushrods/linkages etc). Rivet detail and panel lines make for a great scale subject.


NOTE:- All ESM warbirds are as close to scale as practical, and may require extra nose weight to get the CofG in the right place. We recommend you check CofG location of all aircraft before flying.

Latest Products
You may also like