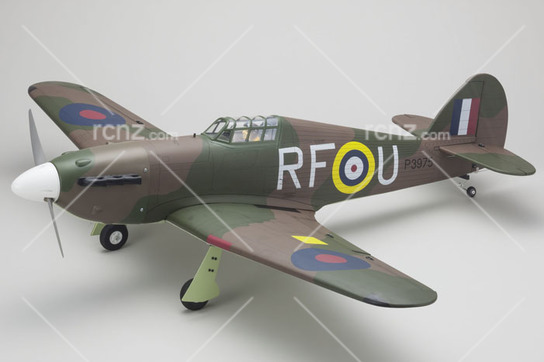 Kyosho - Hawker Hurricane Mk1 GP50 EP/GP ARF
Manufacturer: Kyosho Product Code: KYO 11871
---
11871 Hawker Hurricane Mk1 GP50 EP/GP ARF
Dispatch
4 - 8 Business Days
This loyal old soldier is honored for its defense of England.
Lightweight Balsa Structure!  Equipped with retractable landing gear with built-in suspension.
| | | | | |
| --- | --- | --- | --- | --- |
| Realistic nose shape is realized with the diagonal engine mount and slight exposure of engine head and muffler for cooling. |   | Covered in high quality Oracover film that is resistant to wrinkling and sagging. Camouflage print recreates realistic finish. |   | Retractable landing gear is controlled through a single servo and features real suspension function that absorbs unevenness of the airfield surface. |
| | | | | |
| --- | --- | --- | --- | --- |
| Lightweight and high rigidity balsa structure. Includes fuel tank and silicon tube. Nose cover can be easily opened & closed. |   | Large flap area is built-in to support effective speed control and lift for improved takeoff and landing control. Delivers realistic flight characteristics. |   | In addition to pilot figure, the cockpit also includes a 3D instrument panel for detailed realism. Scale spinner also included. |
Lightweight balsa fuselage, main and tail wings in this ARF kit are pre-covered in camouflage film.
Handy 50-class size delivers realistic scale feel.
Features retractable landing gear with enclosed coil spring suspension.
Features large area flaps, effective in landings and takes offs.
Premium Oracover film with striking camouflage print finish is resistant to sag.
Pilot figure and 3D instrument panel installed.
Fuel tank, silicon tube, scale spinner and linkage parts set are included.
 

< ARF Kit Contents >

Factory assemble fuselage covered in printed film
Retractable landing gear with built-in suspension
Pilot figure (installed)
3D instrument panel (installed)
Fuel tank
Silicone tube
Linkage parts set
Scale spinner
Tires
 

< Required for operation >

6ch (minimum), 8 servo R/C system for airplanes (including 1 servo for retracts)
2 cycle 46-55, 4 cycle 56-62 engine
Fuel, starting tools
D11xP6-D13XP7 propeller
200mm Y extension cord x 2 for aileron and flap servo
300mm extension cord x 2 for aileron
100mm extension cord x 1 for retractable landing gear servo
Weight for adjustment of center of gravity
Sponge sheet
Nylon strap
Batteries for R/C system
| | |
| --- | --- |
| Length | 1,245mm |
| Width | 1,520mm |
| Weight | 3,150g (when installing 4cy56) |
| Engine | 2 cycle 46-55, 4 cycle 56-62 (sold separately) |
| Wing Area | 38.9dm2 |
| Wing Load | 81g/dm2 |
| Wing Type | Clark Y/19% |
| R/C System | 6ch 8 servo (sold separately) |
| Propeller | D11xP6-D13XP7 (sold separately) |
| Fuell | 290cc |
Latest Products
You may also like