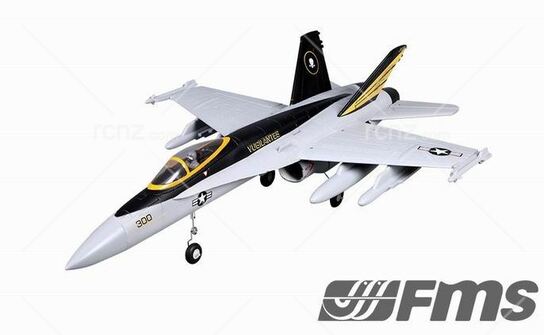 FMS - F-18 'Vigilantes' 64mm EDF Jet PNP
Manufacturer: FMS Product Code: FMM108P
---
F-18 'Vigilantes' 64mm EDF Jet PNP (requires radio, battery & charger)

Overview
The FMS F-18 Fighter is modeled after the F/A-18 Hornet, which fulfilled both fighter and attack aircraft duties. The first prototype of the Hornet was introduced on November 18, 1978. It entered service to the US Navy and Marine Corps in 1981. The Hornet has proven itself time and time again during Desert Storm, Operation Southern Watch and the Desert Fox strikes against Iraq in December of 1998. During Operation Iraqi Freedom, Hornets dominated the aerial campaign by carrying out strikes, close air support, refueling, anti-shipping, and forward air control missions.
True to the original, this F-18 EDF Jet has everything: high-speed flying, real jet style aerobatics and has one of the finest low-speed characteristics of any ducted fan airplane ever. Larger than most EDFs and pushers, the F-18 has a huge presence in the sky, just like the real Hornets. The F-18 Fighter is made with high-quality foam which gives it unparalleled durability.
FMS is pleased to announce that all 64mm ducted fan aircrafts are being upgraded. Beginning with the release of the 64mm F-18 V2. Inspired by the superior features of the original model, version two (V2) has improved mechanical and structural features that will enhance air performance and decrease assembly time.
The fiber pipe greatly enhances the wing strength for enhanced flying maneuvers. Improved main wing set and landing gear installation optimizes strength of structure and reduces assembly time.
The latest 64mm ducted fan can achieve more than 800 grams of thrust.
The differences in speeds between the V1 and V2 will be noticeable. If you possess the "need for speed," accessories such as missiles can be removed to create a faster more streamlined model.
Features
- 280mm fiber pipe inserted through the fuselage and main wing
- Improved main wing set and landing gear installation. optimizes strength of structure and reduces assembly time.
- 64mm 11-blade ducted fan
- 2840-KV3150 motor 
- Predator 40A ESC
- 5x 9g servos
- The latest EPO foam material creating stronger, more impact-resistant plane.
- Environmentally friendly water-based paint minimizes blistering from sun.
- Pre-installed newly designed control horns allows more throw.
Needed to Complete
4+ Channel Radio System
14.8v 2600 35C Lipo Battery
LiPo Charger
Product Specifications
| | |
| --- | --- |
| Approximate Assembly Time | 1-3 Hours |
| Approximate Flight Time | 5 minutes |
| Battery | Sold Separately |
| CG (Center of Gravity) | 80-85mm From Leading Edge |
| Completion Level | Plug-N-Play |
Latest Products
You may also like