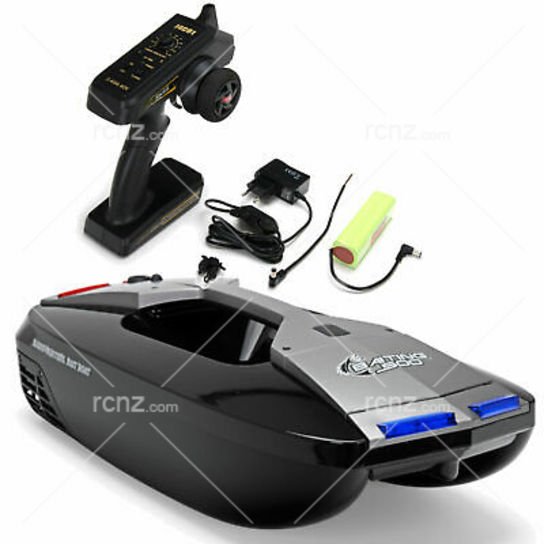 Joysway - Baiting 500 R/C Fishing Bait Boat RTR Complete
Manufacturer: Joysway Hobby Product Code: J3151
---
3151 Baiting 500 R/C Fishing Bait Boat RTR Complete
Radio control fishing craft have come a long way in a short time, thanks to dedicated shore based anglers who understand the specific advantages of boating but do not wish to leave the bank. From personal mobility, boat storage, water safety, convenience, etc - there are any number of reasons anglers choose shore based fishing rather than owning and operating a recreational watercraft, with all the financial and labour costs that entails. But what if you could gain just about all the advantages of being out on the water in your own boat, without ever leaving the jetty, riverbank or lakeside? The Joysway 'Bait Boat' offers exactly this!

Shore based anglers have long envied the ability of boat owners to access fish holding water outside of casting range from the bank, jetty or pontoon. Boat owners could mount fish finders to locate and target their quarry, and they could also berley directly into the water to keep fish in the area and actively feeding.

Capable of hauling most fishing lines, rigs and baits up to 300m from the transmitter, the Bait Boat offers the ability to precisely drop your line where you want it – well outside most anglers casting range! This can be achieved using the included magnetic clips, allowing you to place your line where needed, but enabling the Bait Boat to escape being potentially dragged underneath the water by a whopper on the hook. The magnetic clips, once pulled apart, ensure the Bait Boat is freed from the fishing line and puts the rod back in direct contact with any hooked monster. Lures can be trolled in the same manner. Illuminated LEDs on the front and rear of the Bait Boat clearly indicate both position and orientation of the craft in low light or total darkness, making this craft ideally suited for those chasing fish after nightfall.

With a hopper holding approx. 500g of ground bait, accurate berleying just got a lot easier - and a heck of a lot more fun! Have you ever tried to throw berley pellets into even a light breeze? Even the strongest of arms has trouble getting any kind of distance from the bank, so anglers looked to sling-shots and catapults for distance. Accuracy suffered and 'berleying an area' is an accurate description. Not so with this boat, simply manoeuvre into the desired position and hit the button on the remote opening an underside sliding hatch allowing your berley to fall right into position. This is ideal when fishing still water such as lakes and ponds where berley sinks straight downwards due to the lack of currents. The quietness of operation and the low profile silhouette ensures the Bait Boat is as stealthy as a kayak or canoe.

A separately purchased portable sonar of the 'casting' variety could be easily towed behind the Bait Boat giving you as much underwater information as any full-sized fishing boat with its arsenal of technology. Broadcasting directly to your smart phone, casting fish finders/sonars can provide accurate, highly useful information to the angler such as underwater structure, possible fish locations, depth and water temperature.

Highlights:

* Straight line speed: 3kmh (0.83m/s).
* Radius of turning circle (both left and right): 1.5m.
* Backward speed: Approx 0.15m/s.
* Running time at max speed: 1+ hour, go-stop regular working time over 2 hours.
* Night navigation lights: Twin front blue colour lights, Twin rear red colour lights.
* Cages prevent fishing line, weeds, etc, becoming entangled on the props.
* Battery low voltage alarm: Both front and rear lights will blink at same time.
* Berley hopper: Close the hatch before loading berley. Click button on transmitter to open.

Specifications:

* Length: 535mm.
* Width: 240mm.
* Height: 140mm.
* Hull Type: Catamaran.
* Power system: Twin 390 brushed motor, 36mm positive and negative props.
* Battery: 4.8V 5000mAh NiMH battery pack, supplied with AC charger.
* Radio control system: Pistol grip transmitter, range approx 300m.
* Supported radio functions: Control forward/reverse, port/starboard & hopper door open.
* Approx berley hopper capacity: 500g.

Notes & Tips:

* Requires 4x AA batteries (not included).
* Catamaran hull best suited to calm conditions.
* Do not operate in strong winds, waves or currents.
* Unsuitable for very large baits or lures. and very heavy fishing lines.
* Do not tie fishing line, bait or lures directly to the Bait Boat... If you hook a monster, it may be dragged below the water!
CHECK OUT THE VIDEO FOR THE BAITING 500 RC BAIT BOAT
Latest Products
You may also like