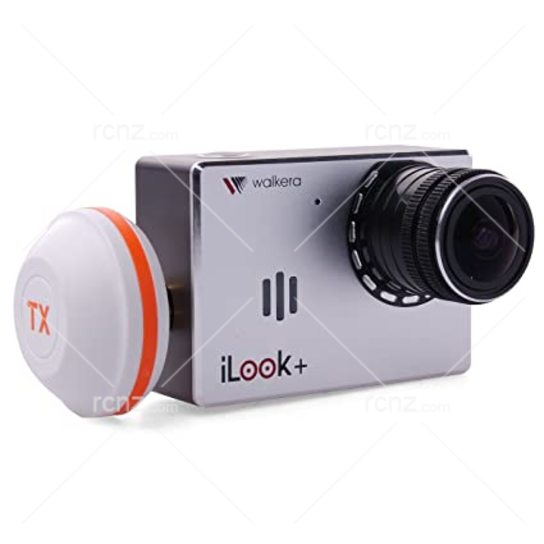 Walkera - iLook+ FPV HD Video Recorder Camera & 5.8GHz Transmitter
Manufacturer: Walkera Product Code: ILOOK+
---
iLook+ FPV HD Video Recorder Camera & 5.8GHz Transmitter
Dispatch
1 - 3 Business Days
The Walkera iLook+ HD is an action camera designed for aerial photos and videos as it comes with a large antenna and built in video transmitter. Let's take a look at the specs:

Walkera iLook+ HD Specs
Image Sensor:
The camera features a native 4 MP OmniVision OV4689 sensor. That's the same sensor as used in the Eken H9 or SJ4000+. Although the description often says 12 MP, just the image is upscaled to get 12MP photos.
Chipset:
The camera holds a iCatch 6350M processor as described on the website. Could be that this is the 6350M chip from Sunplus which is also used in the Amkov AMK7000S. The Eken H9 holds a 6330M Sunplus chip.
Lens:
150 degree wide angle, all glass lens; aperture is f2.8 or even 2.6 – the data is a little inconsistent on their website.
Video Resolution:
Also here the data varies a bit
4K – max. 10fps
1080p – max. 60fps
There is no word on 720p with 120fps, but that might be possible, same as for Eken H9 and Amkov AMK7000S
Recording Format:
The videos are recorded in .mov files, .h264 codec
Photo Resolution & Format:
max. 12MP .jpg – thats why they call it a 12MP camera, even tough it has a 4MP sensor
Latest Products
You may also like