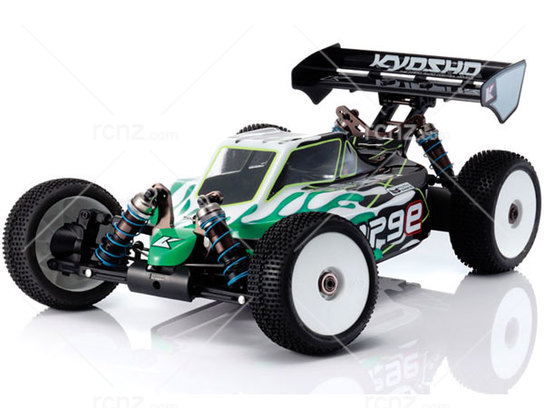 Kyosho - 1/8 Inferno MP9e TKI Kit
Manufacturer: Kyosho Product Code: KYO 30897
---
30897 1/8 Inferno MP9e TKI Kit
KYO 30897 1/8 EP 4WD Inferno MP9e TKI Kit

Supercharged MP9e version is the choice of the world's top drivers!

TKI specification is packed with special performance parts!

With interest first sparked in Europe and America, 1/8 electric buggy racing has now emerged as a supercharged racing category around world. Electric versions of the world dominating GP Inferno MP9 have been optimized for electric power and the introduction of the MP9e has built a following amongst the world's top drivers with its racing power and speed. A new TKI version extends this competitive advantage to an even higher level. Featuring the most advanced components available, the MP9e TKI is fully equipped to win and worthy of Kyosho's international factory team (TKI) brand. With improvements to the Inferno's renowned strength and durability, precision components add even more racing speed that can be fine tuned with a wider scope for custom settings. Aiming to be the best in its class, the Inferno MP9e TKI is your road to glory in 1/8 EP buggy racing!

Features

o3-differential equipped shaft drive full-time 4WD and 4-wheel independent double wishbone suspension contributes to low C of G.
oFull ball bearing specifications.
oHuge range of optional parts available.
oWide scope for setting adjustments possible for wheelbase, tread, roll centre, caster angle, toe angle and camber.
oFront hub carrier allows 3 caster angle settings.
oRoll centre can be adjusted by changing suspension bushings in lower arm.
oBolted on wing holds firm even when subjected to big shocks.
oLightweight design features compact front and rear diff units for the lightest construction in its electric class.
oSuspension with bushings eliminates the use of E-rings for more efficient maintenance and setting.

oAluminum Big Bore Shocks with dial adjustment. Enables precision adjustment of spring tension.

oAluminum Rear Hub Carrier. More rigidity through rear wheel support delivers increased traction.

oMachine-Cut Aluminum Motor Mount. Allows fast and easy motor replacement and adjustment of backlash. Precision construction allows maximum drive efficiency from motor power to be realized.

oReinforced Rear Suspension Shaft. Use of aluminum rear hub carriers deliver increased durability for greater driver confidence.

oAluminum Wing Stay Collars. Increased strength and rigidity makes maximum use of downforce. Also provides improved crash resistance.

oLightweight Diff Shaft. Minimizes drive loss.

oA7075 Main Chassis. A7075 grade aluminum provides strength, rigidity and a hard finish to the surface.

oA7075 Steering Plate. Provides reliable and precise steering even under hard racing conditions with the extra strength and rigidity of A7075 grade aluminum.

oA7075 Rear Suspension Holder. Realizes full capacity of rear suspension with the extra strength and rigidity of A7075 grade aluminum.

oTKI Version Body. Forward cabin type body delivers superior aerodynamics.

Kit Contents

oChassis Kit
oClear body
o1 module steel pinion gear
o4 L-shape hex wrenches: 1.5, 2.0, 2.5mm
oCross wrench (small)
o17mm wheel wrench

Required for Operation

o2-channel, 1-servo R/C system
oBrushless motor (recommended / Team ORION ORI28807)
oESC for brushless motor (recommended / Team ORION ORI28811/28812/28813)
oTwo Li-Po batteries for chassis (Super Plug - recommended / Team ORION ORI65105)
oBattery charger (recommended / Team ORION ORI4044B)
oTires
oWheels
oTire inners
oShock oil
oPaint for body
oBattery for R/C system
o[CAUTION] model will function Ni-MH and Ni-Cd batteries but may not deliver performance as designed.
CLICK HERE for a radio, servo, battery, charger & paint combo
Latest Products
You may also like