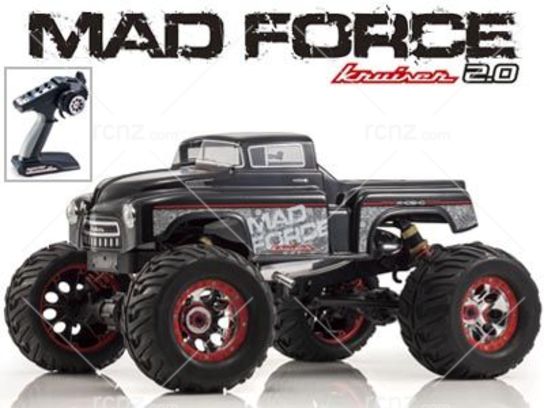 Kyosho - 1/8 Madforce Kruiser GP RTR
Manufacturer: Kyosho Product Code: KYO 31229
---
31229 1/8 Madforce Kruiser GP RTR complete
3-speed automatic transmission and rigid axle combine with massive 160mm diameter tires to power this
heavy-duty shaft-drive 4WD chassis over the roughest terrain with sure-footed confidence. Also, the long
wheelbase and low down suspension combine to deliver superior mid to high range speed performance
and the new KE25 engine and its welded manifold and tuned muffler polished to a stunning gleam realize
both ease of use and high power output. From tarmac to the roughest off-road, the KRUISER is easy to
control over any type of surface. And it is available full pre-assembled in a Readyset package including the
advanced 2.4GHz Synchro KT-231P R/C system that eliminates the need for frequency bands. In addition to
the full setting options available on the transmitter, the KR-331 receiver features a failsafe function that
throttles down in the event the radio signal is lost or interrupted. With the Kruiser's advanced design and
performance features, the excitement of monster truck action is in your hands!
Fully assembled Readyset just needs fuel and batteries to run.
3-speed A/T delivers maximum effectiveness from the powerband.
Rigid front and rear axles with solid casing realize effective traction transfer.
Large capacity 150cc fuel tank enables long run times.
New design knuckles expand steering angle.
Pre-cut and pre-painted body is complete with decals applied.
Rear differential equipped with strengthened steel bevel gears.
Radio box protects R/C components from dust and dirt.
Big unidirectional pneumatic rubber tires.
Interchangeable front and rear suspension arms provide efficient parts utilization for maintenance.
Long wheelbase and low down suspension realize dynamic rough road performance with rock-solid
straight line stability and cornering speed.



 

Readyset Contents

Factory assembled chassis with R/C linkage setup complete
Pre-cut and pre-painted body complete with decals applied
Pre-installed 2.4GHz Synchro KT-231P R/C system
Fuel Bottle
Plug Heater
Cross Wrench
Hex Wrench
NOTE) Fuel, AA-size alkaline batteries x 8 for transmitter & receiver, D-size
batteries x 2 for glow plug heater are all sold separately.



 

Required for Operation

AA-size alkaline batteries x 4 for R/C system
Fuel
D-size batteries x 2 for glow plug heater

 

| | |
| --- | --- |
| Length | 545mm |
| Width | 415mm |
| Height | 245mm |
| Wheelbase | 360mm |
| Tread (F/R) | 310mm / 310mm |
| Tire(F/R) | Φ160x100mm / Φ160x100mm |
| Gear Ratio | 25.7/19.8/15.6:1 |
| Weight | 4,100g (approx.) |
| Engine | KE25 with Recoil Starter |
Latest Products
You may also like