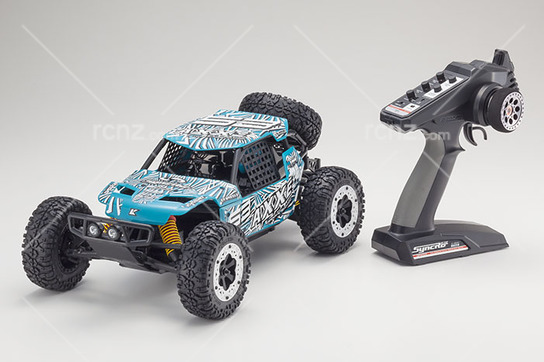 Kyosho - 1/10 AXXE EP Readyset RTR
Manufacturer: Kyosho Product Code: KYO 34401T5
---
34401 1/10 AXXE EP Readyset RTR complete with 7.2V battery & charger
The perfect introduction to real R/C buggy action!
True buggy performance has never been easier to enjoy!
This is the Kyosho AXXE 1/10 Scale ReadySet Electric 2WD Buggy, with an included Kyosho KT231P 2.4GHz Radio System, 1800mAh 7.2V NiMH battery pack and AC battery charger. Kyosho's knowledge in R/C buggy design has accumulated over many years and has been applied to produce the ultimate beginner racing buggy. Fully factory assembled in a Readyset package, this is the definitive beginner R/C buggy for performance and affordability.
Remove from box and start racing!
Insert 4 AA-size batteries (not included) into the transmitter and charge and load the battery onto the fully factory assembled chassis. The body is complete with coloring and stickers applied. No difficult assembly and setup is required. Designed so everyone can experience Kyosho power and performance.

2.4GHz KT-231P R/C system installed!
2.4GHz R/C system allows the model to be used as soon as power is switched on. Eliminates the need to manage frequency bands. Equipped with pre-set high-performance ESC (electronic speed controller). Suspension has no adjustment points so tricky settings are not required. Now anyone can drive with skill!

Easy maintenance!
While the chassis design embodies Kyosho racing buggy DNA throughout its basic structure, each section has been modified with beginner friendly specifications. For example, the battery can be changed through a hatch on the underside of the chassis without removing the body. As the chassis is designed with minimal adjustment points, there is also a reduced maintenance requirement.

Supports improvement in driving technique!
Provides responsive control for real buggy-like driving performance. Feel your skill improve with each drive! With no assembly and setup required, you can dedicate more time to training. Designed specifically for beginners, the AXXE promises the best introduction to R/C buggy racing you can wish for.
Features:
2.4GHz KT-231P R/C system pre-installed.
4-wheel independent double wishbone suspension equipped with friction shocks.
3-piece wheels use screws and no glue to secure tires.
One-touch battery hatch allows fast battery changes without removing body.
Diff gear case and radio box provide security for off-road running.
Precision module diff gears realize superior durability.
Fixed length suspension arms require no adjustment.
Install a combination of different motors and other optional parts to produce even higher levels of performance.
Steering servo horn with servo saver function protects the servo.
Waterproof brushed 45A electronic speed controller
Battery and charger included.
Multiple body colors to choose from:

Grey: KYO34401T4B
Pink: KYO34401T5B
Green: KYO34401T6B:
Specifications:
Length: 410mm
Width: 230mm
Height: 172mm
Wheelbase: 262mm
Tread (F/R): 190mm / 190mm
Tire(F/R): F100mm x 36mm / F100mm x 36mm
Gear Ratio: 8.76 : 1
Weight: 1,750g approx. (battery included)
Motor: 22-turn 540-type
ESC: Waterproof Vortex Brushed 45A
R/C System: Syncro KT-231P
Includes:
Factory assembled chassis with R/C unit installed
Pre-assembled body with decals applied
Syncro KT-231P transmitter
Cross wrench
7.2V-1800mAh NiMH battery
Charger
Needed To Complete:
(4) "AA" Batteries (for transmitter)
Latest Products
You may also like