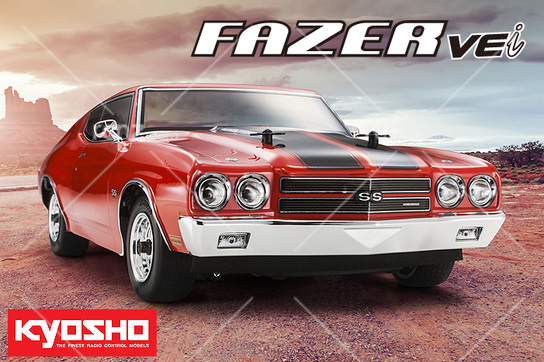 Kyosho - 1/10 Fazer 1970 Chevy Chevelle SS RTR Red
Manufacturer: Kyosho Product Code: KYO 34053T1
---
34053 1/10 Fazer 1970 Chevy Chevelle SS RTR complete with battery & charger (Red)
One of the iconic muscle cars in American history is now part of the popular Fazer VEi line of brushless-powered, hobby-grade RC cars from Kyosho the 1970 Chevy Chevelle SS! The Chevelle has always been part of the muscle car elite, but the1970 SS model with the LS6, pumping out 450 horsepower right out of the showroom, was the most popular Chevelle of all. Available in two of the most popular colors for the Chevelle, Cranberry Red and Phantom Blue, this machine has many of the features of the full size car, and better in some cases! It comes completely factory assembled, and it?s ready to roll as soon as four AA alkaline batteries are installed in the transmitter. This car features scale speed an acceleration that exceeds that of the real car, but one thing that is very similar to that of the real car, are the stunning lines of the body. The super scale body that?s included with the Chevelle is factory-painted, and clear body kits ready to be painted any color, will also be available.
The Fazer VEi is built for enthusiasts with beginner to intermediate skill levels. It features a hobby-grade chassis that is durable, customizable, and can be modified for any level of performance. More modern 4-wheel independent suspension soaks up the bumps with the assistance of oil-dampened coil-over shocks.Industry-standard 12mm hubs are use to fit the wheels, which makes the Fazer compatible with hundreds of types of wheels and tires made for cars of this scale. Ball bearings support the entire drive system, ensuring that the Chevelle runs as smooth and efficiently as possible. The Fazer also features a 4WDdrivetrain to bridge the reality gap between the full size car and the RC version.The power-to-weight ratio of the RC version is considerably stronger than thatof the real car, and as a result, a 2WD version of the car would be very difficult to control. The 4WD system handles almost everything you can throw at it, and then some. It?s even ready for optional motors and ESCs that are much more powerful, and that will produce freakishly high speeds.
The Fazer VEi includes the Team Orion dDrive. This is an integrated power system that enhances the output of the 4-pole brushless motor by installing the Electronic Speed Controller inside the motor. By eliminated the wires that normally connect a standard motor to an external speed controller, it reduces resistance, which in turn increases power and efficiency. The entire package is powered by the included Team Orion 1800 mAh Ni-Mh battery (with a basic AC wall charger), but the dDrive system can handle aftermarket big capacity Li-Po batteries for longer, and noticeably more powerful performance if you think you?re ready.

Wheelbase extended 14mm longer than standard EP FAZER. Works in combination with the dDrive system to deliver power and stability. Features light buckets that allow LED head lights and tail lights (both sold separately) to be easily bolted on for a truly scale look and feel.
FEATURES:
Chassis is fully factory assembled with a painted, trimmed and mounted body.

SyncroKT-231P 2.4 GHz radio system is included with a high-performance waterproof steering servo.

Sealed differentials and transmission delivers reliability and performance.

High performance 4-pole Team Orion Vortex dDrive system (Equivalent to 3000KVconventional motor)

Compatible with 2S LiPo batteries and pre-wired with a Super Connector.

Water-proof power system.

Aluminum motor/ESC case provides efficient cooling

Fully proportional steering and throttle control. No ?steps? in the controls or?choppy? movement.

Overheat protection and battery low voltage cut

-

off systems.

1970Chevy Chevelle body officially licensed by General Motors.

New "true-to-scale" body with detailed molded parts like front and rear grills, side mirrors, fuel cap, etc.

Designed to use an optional LED light set for the most realistic action at cruise night!

Includes Team Orion 1800NiMh Battery pack and Kyosho wall charger

Features a longer wheelbase for more stability and improved scale appearance.

Onboard receiver is protected from dust and debris.
SPECIFICATIONS:
Length:19.3 in. (489mm)

Width:8.2 (207mm)

Height:5.4 in. (138mm)

Wheelbase:10.8 in. (274mm)

Tread(F/R): 6.9 in. (174mm)

Tire Width : 1 in. (26mm)

Tire Diameter : 2.7 in. (68.5mm)

Weight Approx 3.75 lbs. (1700g)

Gear Ratio: 6.34:1
READYSET BOX CONTENTS:
Factory assembled chassis

Painted,trimmed and mounted body

SyncroKT-231P 2.4 GHz radio transmitter

Team Orion 1800 mAh Ni-MH battery pack

AC wall charger with international plug adapters (Do NOT use for Li-Po batteries)
Latest Products
You may also like