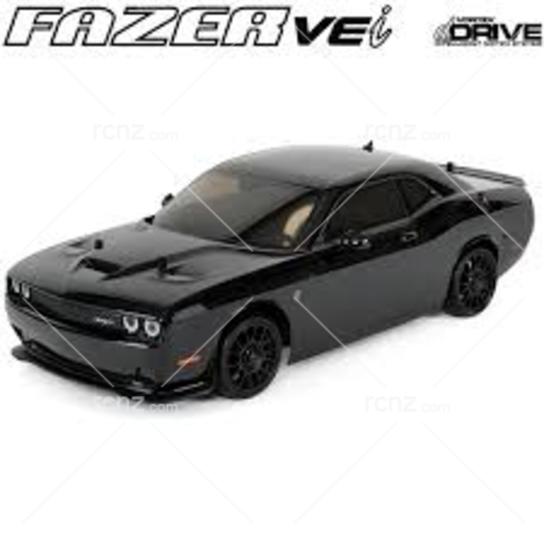 Kyosho - 1/10 RS Fazer VEi Dodge Challenger Hellcat (Black)
Manufacturer: Kyosho Product Code: KYO 34051T2
---
34051T2 1/10 RS Fazer VEi Dodge Challenger Hellcat - Black
KYOSHO - FAZER VEI DODGE CHALLENGER HELLCAT GREEN (KT231P/BATT-CHARG) 34051T1

A new generation of high-performance EP touring cars has arrived!
The ORION dDrive brushless power unit incorporates a one-piece ESC and motor.
Technical :
 Chassis Kit is Fully Assembled Chassis
 SYNCRO KT-231P Radio System Installed.
 Pre-painted assembled body with decals applied.
 Sealed differential and transmission delivers the reliability for rough road racing performance.
 Fixed length suspension arms eliminate the need for camber, caster and toe-in (front) adjustment.
Chassis Technical Data :
 Length 486mm
 Width 200mm
Ground Clearance 10mm approx.
Wheelbase 274mm
 Tread (F/R) 172mm / 172mm
 Tire(F/R) Φ68.5mmx26mm
 Gear Ratio 6.34:1
 Weight 1,500g

ReadySet Contents :
 Factory assembled chassis with pre-installed R/C unit
 Pre-painted assembled body with decals applied (with large wing)
 Syncro KT-231P transmitter
 Hex wrench (1.5mm)
 Cross wrench

Required for Operation :
 4 x AA sized alkaline batteries for transmitter
Latest Products
You may also like