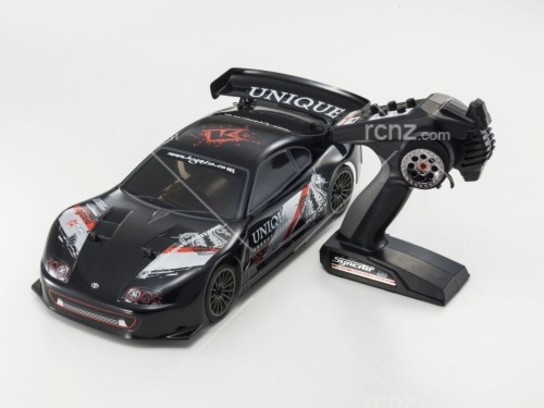 Kysoho - 1/10 Fazer Toyota Supra Drift RTR
Manufacturer: Kyosho Product Code: KYO 34061T1
---
34061 1/10 Fazer Toyota Supra Drift RTR
Learn the art of drift driving in this beginner drift machine with stunning graphics
This drift machine powered by the easy to manage G2X brushless motor is the latest addition to the shaft driven 4WD EP FAZER Series lineup. The sleek shape of the resin bathtub chassis combines the optimal degree of rigidity with chassis flex and is compatible with many body types. In addition to the receiver box, the differential incorporating metal gears is enclosed in a sealed transmission box to protect against dust and dirt. The left/right integrated structure of the lower suspension pivot pins guarantees high durability and impact resistance. Also, the resin drift tires included as standard provide both excellent control and slide characteristics. With these components and features, this model delivers dynamic performance anywhere from parking lot surfaces to racing circuits. The motor mount allows backlash to be easily adjusted through the eccentric cam that can be installed or removed with only 3 screws for easy maintenance characteristics. Beginner-friendly design incorporates fixed length rods so there is no need to adjust suspension, camber and toe angle. With the responsive control and maneuverability of a shaft drive 4WD machine, the EP FAZER Drift breaks down the barriers to the thrilling world of drift racing.
●Fully assembled chassis with R/C system installed.
●Scale detail of worldwide popular Toyota Supra body is complete with vivid graphics.
●Includes 2.4GHz Syncro KT-231P transmitter.
●Sealed structure of diff and transmission gives the confidence to drive in dusty conditions such as parking lots.
●Fixed rods remove the need for adjustment of camber, caster and toe angle (front).
Light weight and high impact resistant resin bathtub chassis is equipped with sealed gearbox and dirt proof receiver cover for driving confidence in dusty conditions.
540-class G2X (20T) brushless motor generates the power for drift driving and is easy to operate.
Features waterproof VORTEX WP Brush 45A ESC. Boasting a maximum continuous current of 45A, the ESC allows easy setting of reverse on/off.
Syncro KT-231P transmitter features easy volume dial settings. Also equipped with throttle endpoint and steering dual rate settings.
Includes Team ORION 7.2V-1800mA Ni-MH battery with high efficiency super plug (Deans) type battery connector.
Equipped with KS4081-04WP waterproof servo that delivers light steering feel with fast response and high torque.
Resin drift tires balance control with slide performance and can be styled with spoke wheels.
Full bearing specification drive train is equipped with 17 ball bearings for high drive efficiency that produces dynamic acceleration and extends drive times.
Double wishbone suspension is supported with oil shocks on front and rear. Chassis height can be adjusted by adding or removing spacers.
TECHNICAL DATA

KIT CONTENTS

REQUIRED FOR OPERATION
■Length 455mm
■Width 210mm
■Height 120mm
■Wheelbase 260mm
■Tread (F/R) 174mm/174mm
■Tire(F/R) 68.5x26mm/68.5x26mm
■Gear Ratio 6.34:1
■Weight 1,700g (approx.)
Latest Products
You may also like