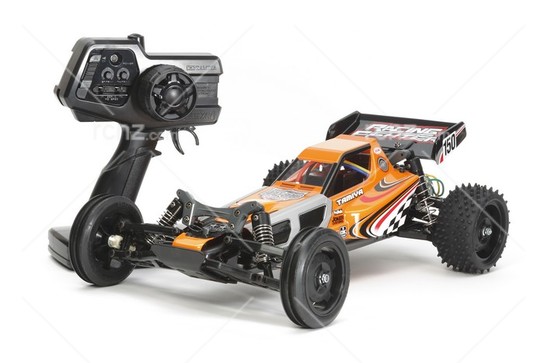 Tamiya - 1/10 Racing Fighter DT-03 RTR
Manufacturer: Tamiya Product Code: 57895
---
57895 1/10 Racing Fighter DT-03 RTR
An Open Invitation To Get Racing!
This is a factory finished R/C model of the Racing Fighter, a model inspired by real-life single-seater buggies.
The stylish body has a sleek nose and lowdown cockpit, which comes in pre-painted durable polycarbonate.
Stickers are pre-applied to create lively markings and framework depictions along the sides of the nose. The
long, slender yet tough frame of the DT-03 is combined with 4-wheel double wishbone suspension plus front
ribbed and rear square spike tires. You won't be able to resist the temptation to take this exciting newcomer
racing!
DT-03 Chassis: Great Fun, Minimum Fuss
The stylish slimline form of this chassis stems from its lightweight yet durable monocoque frame, which
features a longitudinally-positioned battery and the R/C equipment along the centerline for excellent balance.
The combination of a long 287mm wheelbase and 4-wheel double wishbone suspension married to friction
dampers with long arms, allows the model to handle with stability on poor surfaces. Ribbed front and square
spike rear tires provide ample grip, and the rear-positioned gearbox is sealed to protect from dust and dirt,
with the built-in differential gear offering smooth cornering.
Specifications
●Length: 400mm, Width: 244mm, Height: 134mm
●Wheelbase: 287mm
●Tread (Front/Rear): 222/208mm
●Tire Width/Diameter: 23/81mm (Front), 41/86mm (Rear)
●Monocoque Frame
●Rear Wheel 2WD
●3-Bevel Differential
●2-Piece Steering Tie-Rod
●Front & Rear Double Wishbone Suspension
●Gear Ratio = 9.28:1
●Type 540 Motor
●Electronic speed controller
Separately Required Items
●7.2V battery & charger and AA batteries for transmitter
Latest Products
You may also like