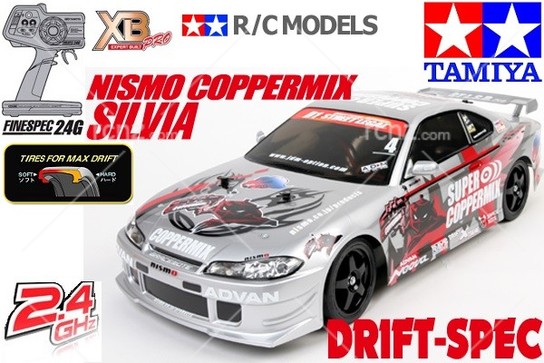 Tamiya - 1/10 Silvia Drift Special TT-01D RTR
Manufacturer: Tamiya Product Code: 57765
---
57765 1/10 Silvia Drift Special TT-01D RTR complete with 2.4G radio set
Drift racing has become such a popular sport that many R/C fans want to try it out as well. Tamiya meets this demand by taking the popular TT-01 NISMO Copper mix Silvia and tuning it tobe the ultimate R/C drift machine, releasing it in a user-friendly Ready-to-Run package.
About the NISMO Copper mix Silvia
Making its dramatic appearance at the 2005 NISMO Festival held at Fuji Speedway, this car was designed as a custom street legal version of the S15 Silvia, one of the most popular cars used by both professional drift racers and amateur enthusiasts. Sporting an eye-catching silver paint scheme with unique red and black markings, the car showcased its amazing on-road drifting potential.
Lightweight and user-friendly TT-01 chassis.
4WD shaft driven bathtub chassis with coil spring damped, 4-wheel independent doublewishbone suspension and sealed front and rear differential gearbox.
Drift-spec modifications include drift tires, special suspension tuning, full ball bearings, sport-tuned motor, aluminum heat sink, CVA mini shock dampers and short springs.
Includes electronic speed controller (TEU-101 BK), type 540 motor, and Expec R/C system.
Includes LEDs for head and tail lights that turn on automatically when the car is switched on.Add the TLU-02 Light Control Unit (ITEM 53937) for greater control of light operations.
Wide variety of tune-up parts are separately available to customize your machine.
Requires a 7.2V battery pack and charger
CLICK HERE to purchase a battery charger combo

Latest Products
You may also like