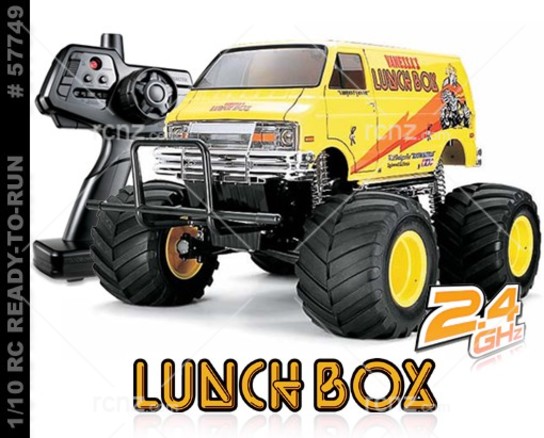 Tamiya - 1/12 Lunchbox CW-01 RTR
Manufacturer: Tamiya Product Code: 57749
---
57749 1/12 Lunchbox CW-01 RTR
Dispatch
2 - 6 Business Days
Another one of Tamiya's classic creations, the R/C Lunch Box (1st released, 1987) was loved for its camp appearance as much as for its R/C performance. The boxy minivan body raised up over monster truck wheels ensure that this R/C van will get attention anywhere you choose to drive it.
About the Model
Fully assembled 1/12 scale monster van, pre-painted with stickers pre-applied.
Shock-resistant styrol body mounted on lightweight and durable ABS bathtub frame.
Heavy duty coil spring damped front and rear suspension.
Sealed gearbox protects differential during off-road running.
115mm diameter monster tires feature high grip and excellent shock absorption.
Front grille, side guards, F&R bumper and friction dampers made from metal plated parts.
Wheelie bar included for awesome stunts!
Includes Type 540 motor
Expec SP R/C unit with TEU-101 electronic speed controller (batteries sold separately).
Latest Products
You may also like