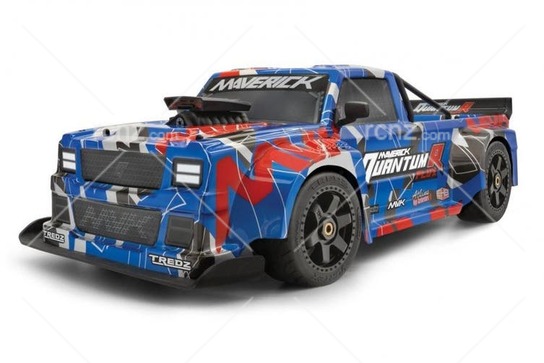 Maverick - 1/8 QuantumR FLUX 4S 4WD Race Truck Blue RTR
Manufacturer: Maverick Product Code: MAV MV150312
---
150312 1/8 QuantumR FLUX 4S 4WD Race Truck Blue RTR (requires battery & charger)
Dispatch
From Supplier - Ships in 4-8 Business Days
TOP-SELLING QUANTUM FAMILY HITS THE STREETS WITH THE NEW QUANTUM R FLUX 4S RACE TRUCK!
The Quantum range has taken RC bashers by storm with its high flying, dirt slinging wheely ripping off-roaders. But now we're changing the game and adding grippy, traction hungry, road going, speed fiends, in the form of blisteringly FAST 4S FLUX-fueled Race Trucks! That's right, the Quantum family has already conquered the dirt so now it's time to own the road!
Don't be fooled, this on-roader still lives up to the Quantum's rugged nature with 4WD Shaft-Drivetrain, Independent Double Wishbone Suspension, Oil Filled Adjustable Aluminum Coilover Shocks and Tough Metal 4-Gear Differentials, all designed to deliver eye popping speed runs and bonkers donuts, tire shredding and slideways drift action!
In fact, the all-new QuantumR trucks continue to break new ground in terms of spec and performance, based on the rugged Quantum+ chassis with new, low slung optimized on-road suspension rolling on the new Tredz Vortex belted tires propelled by 4S HPI FLUX brushless power making its Maverick debut...
4S...! MORE BRUSHLESS POWER THAN EVER!!!
Coming to Maverick for the first time ever, a mind blowing 4S LiPo capability with the FLX10-4S120 Flux 120 A Waterproof ESC and FLX10-3675-2250KV Flux Motor forming an unstoppable power force for amazing road racing power! With the ability to handle a 4S LiPo battery (that's 14.8 volts of LiPo power!)
Unleashing this level of power is a testament to the resilience of the QuantumR and our commitment for Maverick to provide the absolute Best Bash for your Buck!!
IT'S SO EASY AND FUN TO DRIVE!
To drive the QuantumR FLUX, simply pick up the controller with your left hand, put your left index finger into the trigger area, and then put your right hand on the steering wheel – it's as natural as driving a real car! Turn the wheel to go left and right, and gently pull on the trigger with your left index finger to go forwards. To stop the car, gently push away from you with your left index finger - then release and push away again to go into reverse. It takes seconds to get used to this easy operation, and pretty soon you'll be racing with your friends!
A CLOSER LOOK UNDER THE HOOD
This absolute speed demon has been optimized from the chassis up for superior tire and track slaying with a raft of features including newly designed shock towers, supporting short aluminum shocks and new short suspension arms with 17mm hex hubs bolting on the new black race truck wheels wrapped in Tredz traction hungry, quality belted rubber Vortex tires.
However, all this equipment needs a rugged backbone to cope with the the brutal 4S demands and inevitable bumps and rolls along the way, so the HPI Racing design team specified maximum HD parts throughout, including full HD drivetrain: That means HD Front CVDs, HD rear driveshafts and rear axles, HD center driveshafts, HD drive cups. Plus HD Front and Rear Turnbuckles and a foam front bumper.
Accentuating this beast's mean low center of gravity are the plastic front and rear splitter and diffuser for all-out drag race winning, ground hugging, downforce!
BRAND NEW SPEED-CENTRIC TREDZ TIRES BY HPI RACING
As part of the QuantumR launch we're debuting the first on road tire in the new TREDZ range. Fully bespoke with compound, profile and tread patterns designed and specified by HPI Racing. Wrapped in high quality, high grip rubber and belted for toughness, the TREDZ Vortex is the ideal tire to put you ahead of the street racing pack. These Tredz Vortex Tires by HPI Racing are also available to purchase and upgrade the look and performance of any RC vehicle with 17mm Hex Hub wheel fittings. Look out for more tires joining the Tredz family soon!
FEATURES:
- 4WD shaft drive
- Independent Double Wishbone Suspension
- Oil Filled Adjustable Aluminum Coilover Shocks
- Pillow Ball Front & Rear Suspension Uprights
- HD Front Universal Drive Shafts
- HD Diff Cups
- HD Shock Shaft
- HD Turnbuckles
- Tough Metal 4-Gear Differentials Front & Rear
- Center Differential
- Dual Point Bell Crank Steering System With Integrated Servo Saver
- Molded Tub Chassis with Hex Pattern Reinforcement
- Enclosed Receiver Box Protects From The Elements
- Complete Set of Ball Bearings
- 17mm Aluminum Hex Hub
- Tredz Tires - Belted
- Pre-Cut Factory Finished And Decaled Bodyshell
- Plastic molded body detail parts - with multiple engine options
- Available In Multiple Color Options
- 4S LiPo Capable
- 3674 2250KV Brushless Motor with 5.0mm Shaft
- 120A Waterproof ESC
- 15Kg Metal Gear Water-Resistant Servo
- 2.4GHz Radio Set with Waterproof Receiver

Specification:
Length: 597mm
Width: 276mm
Height: 187mm
Wheelbase: 322mm

Items Required:
4 x AA Batteries for transmitter
2S to 4S LiPo pack with T-plug
Latest Products
You may also like