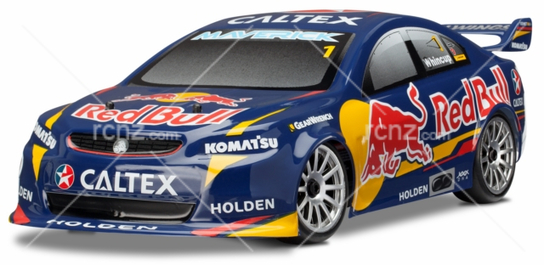 Traxxas - 1/18 LaTrax Holden Red Bull 4WD RTR
Manufacturer: Traxxas Product Code: LATRAXRB
---
75888 1/18 LaTrax Holden Red Bull 4WD RTR


The LaTrax Radio Controlled 1/18 Redbull Racing V8 Supercar incorporates precision and performance into a compact and incredibly affordable model that goes with you anywhere and is ready for fun in an instant. The LaTrax Redbull Racing V8 Supercar is fully assembled and Ready-to-Race?<<, with everything you need included in the package. The powerful motor, all-wheel drive, and fully independent suspension immediately transform the world beneath your feet into a racetrack. Offices, malls, sidewalks, and playgrounds are the site for your next racing challenge. Long run times and the dependable 2.4GHz radio system extend your playtime. The LaTrax Redbull Racing V8 Supercar is built to last, protected by world-class Traxxas support, 100% parts availability.

The LaTrax 1/18 Redbull Racing V8 Supercar captures the distinctive look and exciting performance of a true Redbull Racing V8 Supercar with its lowered stance, tough wide-body styling. The model is an impressive street machine on asphalt while the fully independent suspension, full-time 4WD, and all-weather electronics carry it confidently off-road. Hang it out in the turns and hustle down the straights with the perfect blend of speed, power, and traction???4WD makes it easy to drive like a pro! The suspension system has been expertly engineered for high-performance handling right down to the coil-over friction shocks and firm, road-tuned springs. The chassis balances strength, weight, function, and style in an impressive achievement of packaging and performance optimization that's built for hours of driving fun.
The 1/18 LaTrax Redbull Racing V8 Supercar is fully assembled with a 2.4GHz radio system, painted and decaled body, pre-glued tyres, and easy instructions. A LaTrax 6.0V rechargeable NiMH battery pack, charger, and 4 Traxxas Power Cell AA alkaline batteries are also included. Everything you need for fun is in the box.
1/18 LaTrax Redbull Racing V8 Supercar body with cutting edge graphics
Powered by Traxxas for award winning performance and support
All-weather electronics, including the waterproof electronic speed control (patent pending)
All-wheel drive for superior grip and acceleration
Powerful 370 motor
Ready-To-Race with included 6.0V NiMH battery pack and charger
Fully independent suspension for exceptional on-road handling and control
Front and rear gear differentials
Soft-compound tyres on authentic Redbull Racing V8 Supercar wheels
Durable construction that's built to last
Latest Products
You may also like