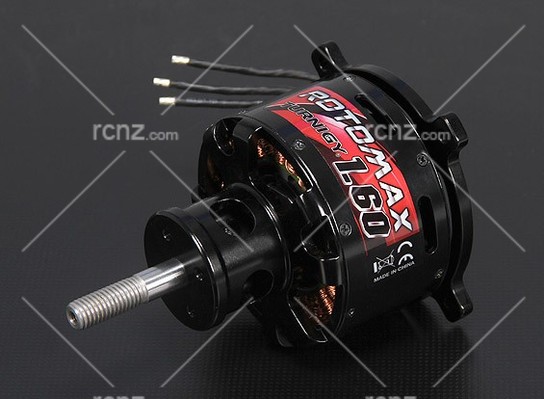 Turnigy - RotoMax 1.60 Brushless Outrunner Motor
Manufacturer: Turnigy Product Code: MAX1.60
---
RotoMax 1.60 Brushless Outrunner Motor - 231Kv
Upgrade your 1.60 size glow engine model with the Turnigy RotoMax 1.60 Brushless outrunner motor. This motor will provide clean and efficient power for your large scale aircraft without the mess and hassle of nitro fuel.
When combined with a 10s Lipoly battery, 21x13" Propeller and a 120Amp ESC the RotoMax motor will supply punchy, responsive power that only an electric setup can provide.
This motor is specifically suited for carbon fiber & wooden propellers and features an IC style 4 bolt hole design. The shaft has also been tapped to suit a 4mm bolt to make fitting a spinner of your choice easy.
Spec.
Battery: 10 Cell /37V
RPM: 231kv
Max current: 80A
Watts: 2960w
No load current: 37V/1.47A
Internal resistance: 0.028 ohm
Pole Count: 24
Weight: 849g
Diameter of shaft: 10mm
Suggested ESC: 120A 10S Compatible
Suggested Prop: 21x13
Length: 

207.00

Width: 

102.00

Height: 

151.00

Kv(rpm/v): 

231.00

Max Currents (A): 

80.00

Power (W): 

2960.00

Length (mm): 

58.00

Can Length (mm): 

40.00

Max Voltage(V): 

37.00

Shaft (mm): 

10.00

Unit Weight (g): 

849

Diameter (mm): 

80.00

Total Length (mm): 

128.00
Latest Products
You may also like