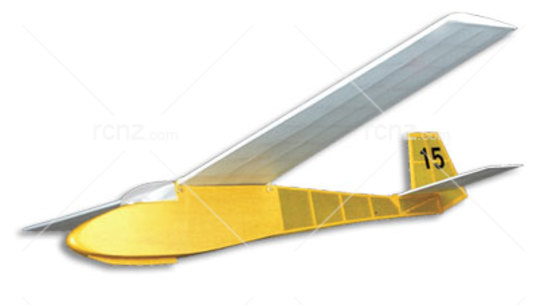 West Wings - Swallow Glider Balsa Wood Kit
Manufacturer: West Wings Product Code: WW15
---
WW15 Swallow Glider Balsa Wood Kit
Span: 900mm
Semi Scale
Power: Glider


Dispatch
2 - 6 Business Days
WW15 Swallow Glider Balsa Wood Kit
The Slingsby Swallow was designed as a high performance sailplane by Britain's longest established glider manufacturer. The original was constructed from wood and lent itself to conventional model building techniques. Many survive in gliding clubs throughout the country and some even saw service with the Air Training Corps. The model market is often criticised for ignoring the scale glider market, so West Wings chose the Swallow in response.

Our model has been designed from conception to cater for two markets. We wanted to appeal to free flight enthusiasts and to the growing numbers of micro R/C fliers as well. Surprisingly, it is with the R/C sector that the Swallow has found most favour. There are readily available (and affordable) servos in the 4g to 9g area together with receivers around the same weight, that have made R/C projects like this possible. Our prototype flies with two Irvine Saturn S49 servos and an ACT Pico 4 receiver. Combine these with a 4 cell pack of 50 or 110mAh NiMh cells and you've got a very lightweight model with fabulous performance in the lowest lift conditions, and what's more, it's scale like!

The kit contains all pre-cut parts and strip wood and includes details and components for both free flight and R/C derivatives and you can choose some really unusual colour schemes to personalise your Swallow. She will perform well from hand or towline launch or even on the slope.

If existing owners are anything to go by, the Swallow is a winner.
Latest Products
You may also like