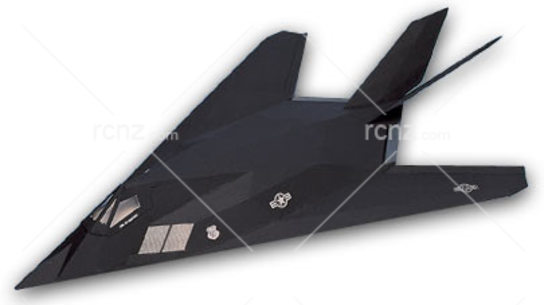 West Wings - F117A Stealth Fighter Balsa Wood Kit
Manufacturer: West Wings Product Code: WW06
---
WW06 F117A Stealth Fighter Balsa Wood Kit
Span: 401mm
1:33 Scale
Power: Rubber
Dispatch
2 - 5 Business Days
WW06 F117A Stealth Fighter Balsa Wood Kit
Probably the most secret aircraft to emerge from the USA in recent years, the F117A Stealth Fighter goes against a lot of aerodynamic theory by flying at all! The shape is radical yet strangely graceful and became a challenge to get a model flying based on such a non-aerodynamic shape.

The West Wings Stealth Fighter captures all the design features of the original, yet with little modification to the overall shape, still provides excellent flying characteristics. In fact, the only obvious design departure is the adoption of a little dihedral.

Our Stealth Fighter is built flat on the plan from a mixture of formers (cut from printed sheets) and balsa strip. The main fuselage/centre section is in one piece with the outer wing panels being 'butt' joined to it. The finished model then has a large effective wing area with a basically, flat-bottomed wing section.

As a glider it is amazingly efficient and has a very shallow glide ratio. Even on the towline, she remains stable and really looks the part. Details are given on the plan for a clip on 'rubber power' conversion, which provides true one-man flying from flat fields. Just unclip it and you've got a glider again. The choice just adds to the flying flexibility. We've spoken to many owners who just couldn't believe it would fly and were amazed when it did, and well!!!!

We've heard of owners that have modified our Stealth fighter to include micro R/C and successfully flown her off slopes. It takes Lockheed umpteen computers to achieve this and our design seems to work at the extreme low-end of the technology band.

Be different; try a West Wings F117A Stealth Fighter!