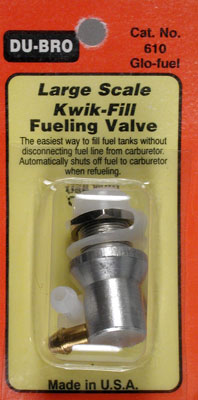 Dubro - Large Scale Fuel Valve-Glo
Manufacturer: Dubro Product Code: 10-610
---
610 Large scale fuel valve-glo
This is the large scale Kwik-Fill fueling valve. The valve mounts to the modeland a special probe is used when fueling. With the fuel valve you don't haveto disconnect any fuel lines to fuel the model.
Includes: 1 Kwik-Fill fueling valve 1 fueling probe
Specs: Valve's dia thru fuselage - 1/2" Fits 1/8 or 5/32 ID fuel tubing Valve length - 1 3/8"
Note: This valve is for glow fuel only.
Latest Products
You may also like