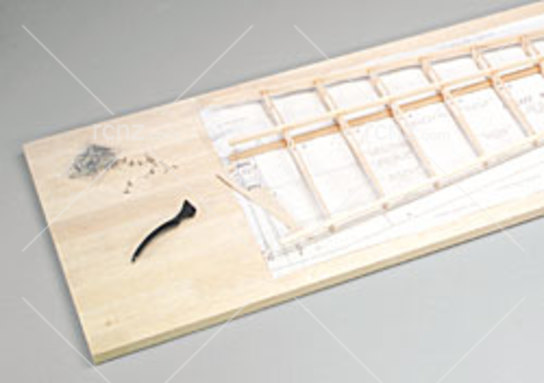 Great Planes - Pro Building Board 12" x 24" (305mm x 610mm)
Manufacturer: Great Planes Product Code: GPMR6946
---
GPMR6946 - Pro Building Board 12" x 24" (305mm x 610mm)

This is a Small size 12x24x3/4" Pro Building Board from Great Planes. It is a flat, solid surface to build model airplane sections upon.
FEATURES: Multiple-section, finger-jointed wood construction resists warping, so modelers can build with greater confidence. Fine wood grain surface and uniform density accepts T-pins easily. Parts are T-pinned in place over the plans on top of the board, so the airplane structure can be built and then glued once the parts are in position. This board is designed for small projects.
INCLUDES: One Small size 12x24x3/4" Pro Building Board
REQUIRES: Nothing. It is sanded smooth and ready to use.
SPECS: Length: 24" (609mm) Width: 12" (304mm) Thickness: 3/4" (19mm)COMMENTS: To prevent this board from warping, it must be allowed to stabilize in moisture content whenever it is moved to the hot outdoors from an air conditioned indoor area. This can be done by removing the packaging and standing the board on end for a day or two allowing air to contact both sides evenly. Warping can occur when placing one end against a workbench or face down on a table. The slight warping will go away in time as the entire board reaches the same moisture level. When one side has more moisture content it will be longer thus causing bowing usually in the cross grain direction. Once both sides reach the same moisture level, the board will again be flat.
Use the Pin Driver T-Pin Tool to push-in or pull-out the T-pins easily. This tool helps reduce finger fatigue that T-pins sometimes cause.
Latest Products
You may also like