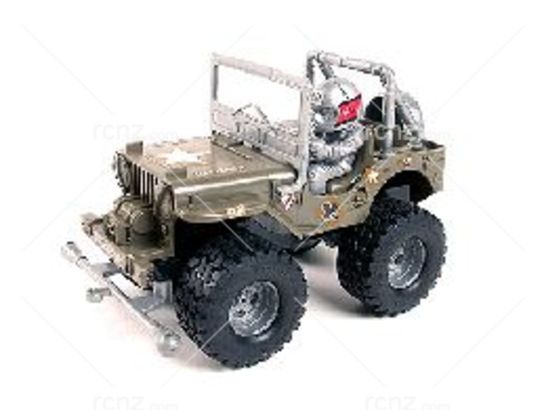 Tamiya - 1/32 Wild Willy Junior Mini 4WD
Manufacturer: Tamiya Product Code: 19010
---
19010 1/32 Wild Willy Junior Mini 4WD
Comical and powerful running style is a plastic assembly model kit of fun mini four-wheel-drive vehicles. The body is arranged a four-wheel drive vehicle M38 Willis masterpiece. The driver also has a doll in front of much humorous stare. Off-road tire is equipped with powerful type tread pattern. 4WD chassis convey to the front and rear wheels in the gear shaft and the power of the motor. Also steadily climbing steep slope of 35 degrees, you can also run wheelie. Assembly is completed easily without the adhesive self-contained, with no rise in the motor wiring.
Specs and Features:
Length: 125mm
Sticker sheet included.
Type 130 motor included.
Mini 4WD Kits Require:(unless stated differently above)
Battery: 2AA
Paint: Optional
Misc. Items: Basic building tools
Latest Products
You may also like