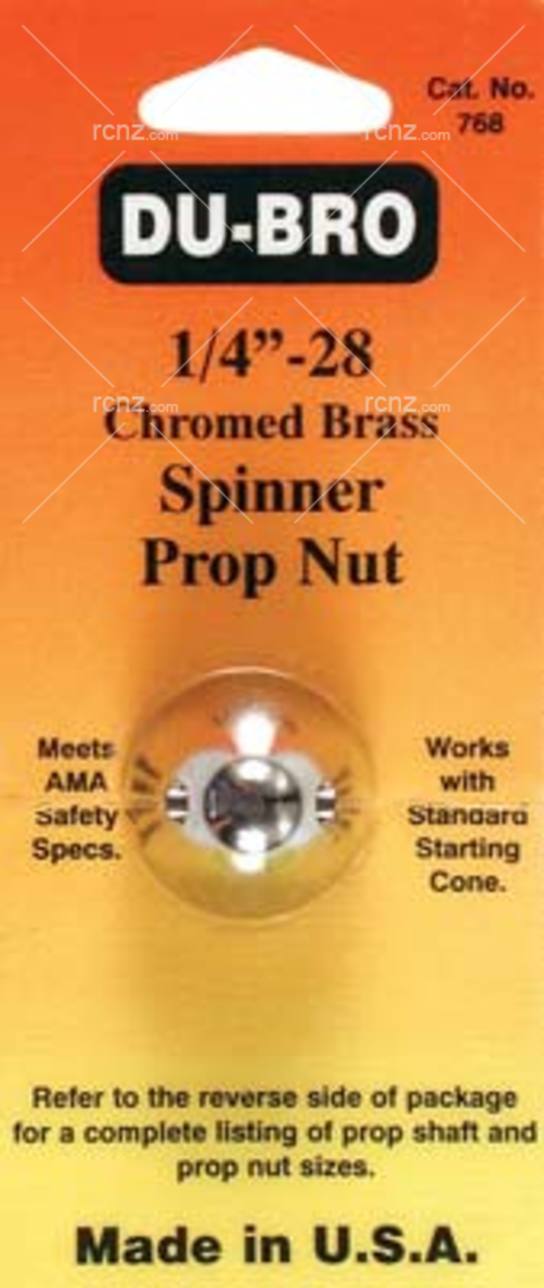 Dubro - Chromed Brass Spin/Nut
Manufacturer: Dubro Product Code: 3807
---
Chromed brass spin/nut - various sizes
Dispatch
2 - 5 Business Days
Chromed Brass Spinner Prop Nut.
FEATURES: Hard chrome plated brass spinner. Great for adding weight to tail heavy aircraft. Meets AMA safety specs. CNC machined from 6061 T6 aluminum. Works with standard electric starting cones. This will fit the following engine models: ASP- .21 ABC-.46 ABC ENYA- SS.25, SS.25BB, SS.30, SS.30BB, .35X, SS.40, SS.40BB, .46 4S, SS.45Ring, .41 4S Fox- .19RC & CL, .25RC & CL, .35CL, .40RC & CL, .50RC BB, .45RC Schnuerle, .40 Quickie Fitzpatrick- .61 ABC HB- .20-.61 all models HP- .21-.61 all models Irvine- .20-.61 all models K&B- .20-.65 all models Magnum- GP.25, GP.40, Pro.25, Pro.36 SE, Pro.40 SE, Pro.46SE MDS- .46, .25-.40 Merco- .33-.40 Moki- .61 Long Stroke all models O.S.- .20-.50 all models, .61SFN-H RC, .61RFN-H ABC, FS.26 Surpass, FS.48 Surpass, FS.20, FS.40 Picco- .21-.45 all models Royal- .25 & .28 RC BB ABC, .40 RC ABC Schnuerle, .45 RC BB Schnuerle ABC, .46 RC BB Schnuerle ABC Supertigre- .19-.56 all models, .60G & ST Thunder Tiger- GP.25, GP.42, Pro.25, Pro.46, F-54S Webra- .21-.60 all models
INCLUDES: (1) Chromed Brass Prop Nut
COMMENTS: Tighten nut with a screwdriver, ball driver or steel rod.
Latest Products
You may also like