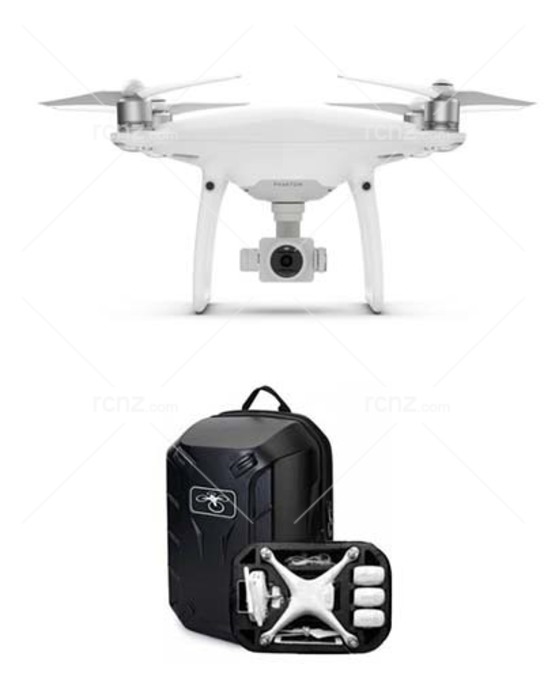 DJI - Phantom 4 Pro Quadcopter RTF
Manufacturer: DJI Product Code: DJIP4PRO
---
Phantom 4 Pro quadcopter ready to fly.
FREE HARD SHELL BACK PACK INCLUDED
Dispatch
1 - 3 Business Days
Wow, possible the greatest quadcopter to be released on the market yet - the new Phantom 4 with the new features of tap to fly, visual tracking (obstacle avoidance), sport mode and extended flight time to 28 minutes.
Revolutionary Materials and Refined Aerodynamics
A new body with a strong magnesium core places the center of gravity closer to the Phantom 4's heart, improving balance, enhancing agility and adding more accuracy to how it reacts responses to your commands.
Multiple Flight Modes
Switching flight modes to meet your needs, whether you arelooking for simplicity and intelligent navigation, speed or smooth cinematicmovements is easy.
Fly Far for Longer
Fly for 28 minutes, an increase in effective flight time of 25%from the Phantom 3 Professional. Enjoy 3.1mi (5km) of range, with completecontrol and a live 720p HD view of everything the camera sees.
Sense and Avoid
Front obstacle sensors combine with advanced computer visionand processing to give the Phantom active obstacle avoidance that allows it toreact to and avoid obstacles in its path. Additionally, DJI's VisionPositioning System has been refined, increasing its effective altitude by over300% from the Phantom 3's altitude to 10 meters and sharpening up itspositioning capabilities, allowing for greater security and confidence whenflying indoors.
TapFly
The Phantom 4 reacts to your touch. In TapFly mode, simplytap on the live view on your smart device screen to send it flying in thatdirection. With Obstacle Sensing Systems you can watch it fly without worry.
ActiveTrack
Using ActiveTrack, the Phantom 4 will recognize yoursubject, follow them naturally, and keep them in the frame. No GPS bracelet,tracker or beacon required.
High PerformanceCamera
Shoot sharp, clean video in up to 4K at 30fps and Full HD1080p at 120fps for slow motion, through a newly designed lens thatdramatically increases sharpness.
PROFESSIONAL POSTPRODUCTION
A range of video color profiles are available to help youget the look you want easily, from bright vibrant colors to professional flatprofiles including D-Log and Cine-D that are ready for video post-production.Photographers can shoot images in 12 megapixel Adobe DNG RAW.
Integrated Gimbal
An advanced 3-axis gimbal takes out unwanted vibration andmovement in-flight, enabling the camera to capture smooth and fluid footageeven during complex maneuvers.
DJI GO
DJI GO is all you need to fly, create, share, and connect.Compatible with the Phantom series, Inspire series, Osmo and more.
SDK SUPPORTED
Through the DJI SDK, the Phantom 4 is open to software andhardware development.
Intelligent FlightPositioning
The Phantom 4 connects to both GPS and GLONASS, allowing itto connect to satellites faster and position itself with extreme accuracy inthe air.
AUTOMATIC FLIGHT LOGS
The Phantom 4 automatically logs the details of every flightyou take so you can check back on previous flights.
BUILT-IN REDUNDANCIES
Dual compass modules and dual Inertial Measurement Units(IMUs) allow the Phantom 4 to constantly check the data it is receiving. Thismeans any incorrect data can be isolated and ignored without ever affectingyour flight.
Latest Products
You may also like