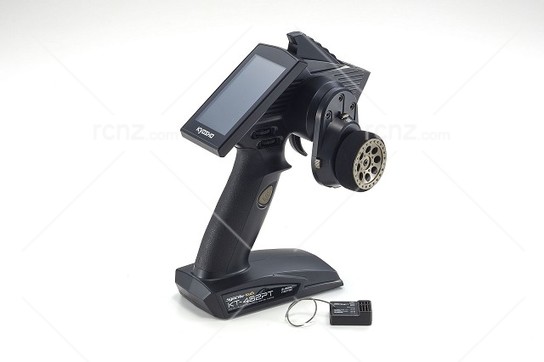 Kyosho - 2.4 GHz Syncro Touch KT-231 Tx/Rx Set
Manufacturer: Kyosho Product Code: KP 82138
---
82138 2.4 GHz Syncro Touch KT-231 Tx / Rx Set
The Syncro Touch FHS/FHSS 2.4GHz radio system brings touch screen technology to the Syncro line, and this particular model is equipped with a ultra-compact 4-channel receiver. It's ideal for any RC car application, AND it's also compatible with the electronics built into the Mini-Z MR-03S/MR-03S2/MA-020S/Overland Sports, and Mini-Z Moto Racer models.The radio system features reduced response times, which increases the precision of your control. The color touch screen used to adjust any of the many radio parameters, which creates an interface familiar to smart phone users. Like other mid-range transmitters, the Syncro Touch menu is rich with setting options from end-point, exponential, mixing and model memory (20 models), but also displays these in a user-friendly format like a smartphone. Switch the power ON/OFF and hear the start up sound of a racing car from the internal speaker. The Syncro Touch is not only an evolution in performance, it also takes the user experience to a whole new level. Kyosho's guiding philosophy of "serious about having fun" is embodied in this next-generation transmitter by enhancing the enjoyment of driving R/C cars
Orthodox design. Includes thin rubber grip as standard but also includes thicker L size for easier grip. At just 14 ounces (398 grams), the lightweight KT432PT transmitter is easy to hold for long drive times.
Steering wheel position is easily adjusted. Five trim buttons are positioned around the steering wheel and 2 push switches are located near the grip for easy reach and control.
Easy visuals from the large 3.35-inch full-color touch panel display brings smartphone-like control to R/C car transmitters. Language choices are English and Japanese.
Setting screen features 23 menu icons, more than enough for a mid-range transmitter. Illustrations are easy to understand and provide direct access and control of menu selections.
Use of graphical and illustrated displays presents information on screen in the easiest to understand format. Control with the flick of a finger, just like a smartphone screen (photo shows steering exponential setting screen).
Next generation transmitter with large full color touch panel display is ideal as upgrade from KT-19.
Two built-in protocols: FHS Mini-Z and FHSS.
Compatible with other R/C models installed with KR-331/431T receiver, in addition to Mini-Z series.
Data from optional temperature/voltage sensor can be displayed on screen. (only when using KR-431T receiver)
Equipped micro USB port allows firmware updates to be installed.
Control feel of throttle trigger and steering wheel can be adjusted by changing position and spring tension.
PACKAGE CONTENTS
KT-432PT transmitter unit
KR-431T Receiver
Grip rubber (L size)
Micro USB cable
REQUIRED FOR OPERATION
4 x AA alkaline batteries for transmitter
SPECIFICATIONS
Channels:4-channel
Weight:398g
Power supply voltage:4 x AA alkaline batteries
Compatible Models:Cars & Boats
RF Range:2.405-2.475GHz
2.4GHz System:FHS(MINI-Z) / FHSS 1-Way(KR-331) / FHSS 2-Way(KR-431T)
Low Voltage Warning:below 3.7V
You may also like