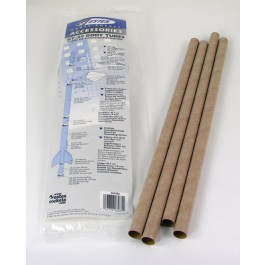 Estes - BT-20 Body Tubes 4 Pack
Manufacturer: Estes Product Code: ES303085
---
ES303085 BT-20 Body tube set
4 pack
303085 - BT-20 Body Tube Description
Use tube couplers to connect tubes of the same diameter.
Four tubes per package.
Use with the NC-20 nose cone
Additional Information
Technical Specifications
Inside dimension: .710 in (18 mm)
Outside dimension: .736 in (18.7 mm)
Length: 18 in (45.7 cm)

Estes model rocketry is recommended for ages 10 and up with adult supervision for those under 12. Unless otherwise specified, all models require assembly. Tools, construction and finishing supplies sold separately. In order to launch, a launch system, model rocket engines, igniters and recovery wadding are required - sold separately-unless otherwise specified.
Latest Products
You may also like