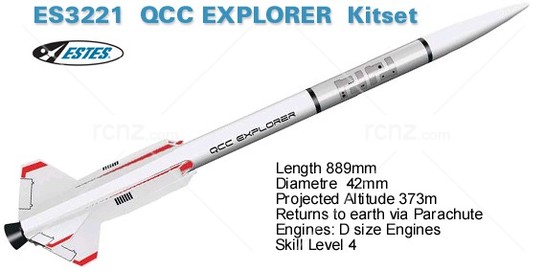 Estes - QCC Explorer Rocket Kit
Manufacturer: Estes Product Code: ES3221
---
ES3221 QCC Explorer rocket kit
Skill Level 4
Don't let the looks fool you with this Skill Level 4 kit. It may look like it's simple to build but what's under the paint will surprise you! Each simulated air intake/fin assembly is constructed from 12 interlocking laser cut balsa pieces.
The Estes QCC Explorer is a design study on what a Hypersonic Cruise Missile may one day look like. The long slender air intakes along the body would not only supply air to the engine put provide lift while flying to its target. The kit features air intakes built up of laser cut wood and a plastic molded exhaust cone.
Technical Specifications

Skill Level 4
Length: 35 in. (88.9 cm)
Diameter: 1.64 in. (42 mm)
Estimated Weight: 5 oz. (141.2 g)
Laser Cut Wood Fins, Waterslide Decals, 18 in. (46 cm) Parachute Recovery
Recommended Engines: C11-3 (First Flight), D12-5, *E9-4, *E9-6
Projected Max Altitude: 1225 ft. (373 m)
Estes model rocketry is recommended for ages 10 and up with adult supervision for those under 12. Unless otherwise specified, all models require assembly. Tools, construction and finishing supplies sold separately. In order to launch, a launch system, model rocket engines, starters and recovery wadding are required - sold separately-unless otherwise specified.

*Requires Estes Porta-Pad E and E Launch Controller, when launching E Engines - sold separately. .
 .
Latest Products
You may also like