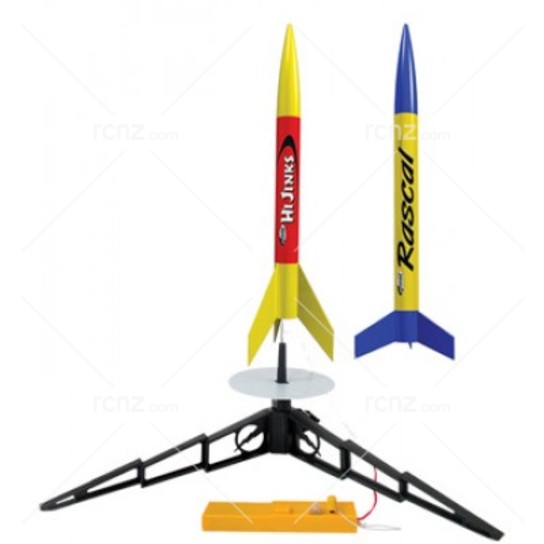 Estes - Rascal & Hijinks Launch Set
Manufacturer: Estes Product Code: ES1499
---
ES1499 Rascal & Hijinks Launch Set
Be the first one ready to launch with the 1499 Rascal & HiJinks Estes Launch Set. This RTF (Ready To Fly) Model Rocket Launch Set requires no assembly, building, painting or gluing. Two (2) Estes Rockets that are ready to be launched right out of the box. Attach the parachute, place on the provided Estes Porta-Pad II Launch Pad, press the Launch button on the Electron Beam Launch Controller and prepare for lift off!.
The Rascal & HiJinks Estes Launch Set is an ready to fly set that is perfect for a fast and fun Estes Model Rocket experience. The Rascal & HiJinks Rockets allow you to double your launching excitement. Your fellow launch associates will be seeing double double as the Estes Rascal & HiJinks soar to heights up to 1200 feet (366 m).
The 1499 Rascal & HiJinks Estes Launch Set includes the Astron II Launch Controller and Astron II Launch Pad. The Rascal & HiJinks Estes Rockets can be launched utilizing the standard Estes Engines outlined below. Engines are not included in this Launch Set and must be purchased separately. Requires four (4) AA alkaline batteries for the launch controller. Recommended for ages 10 and up with adult supervision for those under 12.
1499 Estes 1499 Rascal & HiJinks Launch Set includes:
Astron II Launch Controller and Astron II Launch Pad

 
Estes 1499 Rascal & HiJinks Launch Set Technical Specifications and Features:
Length 14 inches (35.6 cm)

Diameter .98 inches (25 mm)

Weight 1.52 oz. (43 g)

Plastic Nose Cone and Fins

12 Inch (30.5 cm) Parachute Recovery

Max Altitude: 1200 feet (366 m)
Recommended Estes Model Rocket Engines:
You may also like