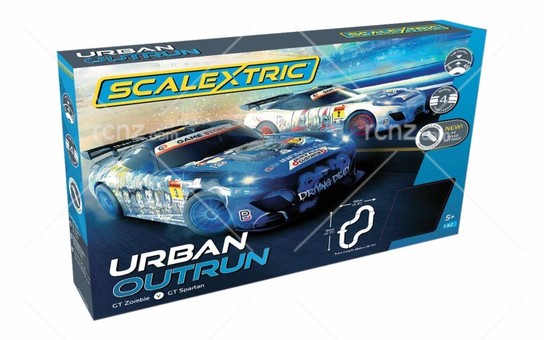 Scalextric - 1/32 Urban Outrun Slot Car Set (Zombie Vs GT Spartan)
Manufacturer: Scalextric Product Code: SCA C1379
---
C1379 1/32 Urban Outrun Slot Car Set (Zombie Vs GT Spartan)
An empty road, no one around, the growl of the engine the only sound for miles. Two tuned up street cars go head to head to see who will come out on top and take victory.
This is Scalextric 'Zombies vs Spartans', an epic battle that takes place over multiple track layouts – who will be victorious in your household?
Each hand controller has a two-position selector switch which allows the driver to choose slow or fast speed settings to reflect the driver's experience.
Contents:
GT Zombie
GT Spartan
Powerbase straight
Lap counter straight
6 x Radius 2 90° curve
4 x Radius 2 45° curve
2 x Colour coded hand controllers
4 x Braid plates
Transformer
Car Features:
 

Easy Change Pick-ups

 

Magnatraction

 

Super-Resistant
Latest Products
You may also like