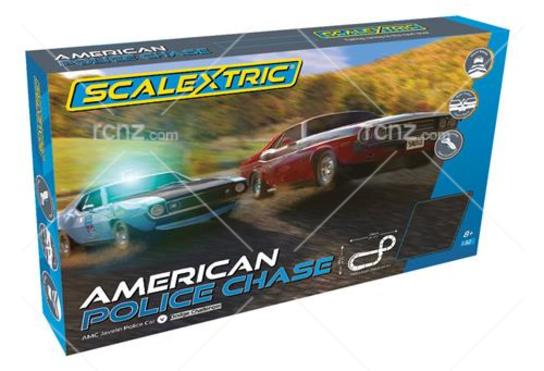 Scalextric - 1/32 American Police Chase Set (AMC Javelin Police Car v Dodge Challenger)
Manufacturer: Scalextric Product Code: SCA C1405
---
C1405  1/32 American Police Chase Set (AMC Javelin Police Car v Dodge Challenger)
Dispatch
4 - 8 Business Days
You've been working on your Challenger all afternoon under the shade tree on a hot summer day. The final turn of the wrench and you're done... You turn the key and the engine rumbles to life. A few minutes later and you're heading downtown for some light-to-light racing. Slowly rolling down Main Street and that Mustang you've been hoping to see pulls alongside you and pops the throttle. His tires chirp as he looks across at you with that sneering grin you want to wipe from his face. A quick stab on the gas and boiling smoke rolls off your rear tires. But what was that!?! Out of the corner of your eye you see a flash of blue and you hear the howl of the police siren! A quick left and right and left again and you're headed out of town with the local deputy on your back bumper! Time to think fast, can you get away?
AMC Javelin Police Car v Dodge Challenger
Two Super Resistant 1/32 slot cars.
Working Siren and Roof Light
The AMC Javelin Police Car features flashing siren and sound.
Stunt Ramp
Dual lane leap ramp with yellow chevrons and landing ramp to ensure you can stay on the road.
Cross Roads
Dual lane crossover with yellow chevrons for the opportunity to knock your opponent off the road.
Side Swipes
2 straight hairpin track pieces to knock your opponent off the road.
Crash Barriers & Borders
Outer curve and lead out barriers and borders.
Adjustable Hand Controllers
Comfortable and lightweight hand controllers with power level control.
Set Contents
1x AMC Javelin Police Car
1x Dodge Challenger
1x Scalextric track
2x Chicane tracks
1x Ramp
1x Scalextric powerbase
2x Wired hand controllers
1x 15v transformer
Tech Specs
Analogue 1/32 scale
Track Length: 532cm
Space Required: 210cm x 140cm
Latest Products
You may also like