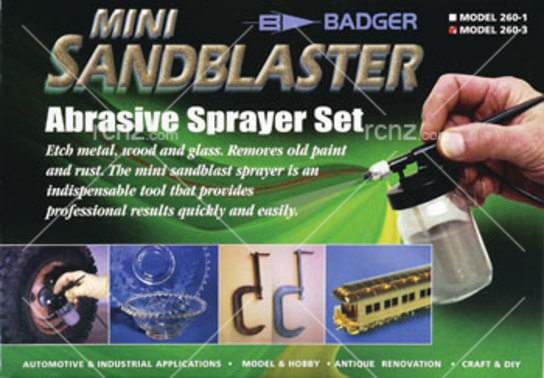 Badger - Model 260 Abrasive Spray Gun
Manufacturer: Badger Airbrush Co. Product Code: 260-1
---
Model 260 abrasive spray gun


Dispatch
2 - 5 Business Days
ABRASIVE GUN
The 260(R) Hobby Abrasive Gun creates an endless variety of effects in glass etching, or cuts monograms in wood or metal. The 260(R)can also prep wood, plastic, and metal surfaces and curved, hard toreach areas for refinishing. Realistic weathering effects are easilyachieved using this gun. The Model 260(R) will handle 220 grit, or finer abrasive materials.
CONSTRUCTION

The 260(R) is made of high-impact delrin and precision metal parts. The tip is hardened steel.
Badger'sAluminum Oxide Abrasive is specially ground to a 220 grit for use withthe 260 Abrasive Gun. Available in 12oz. (340g) and 5lb. (2.27kg) jars.
Latest Products
You may also like