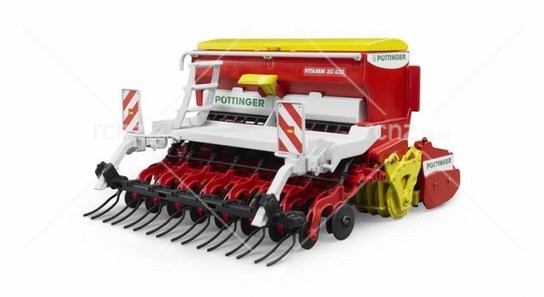 Bruder - Pottinger Vitasem Seed Drill
Manufacturer: Bruder Toys Product Code: BR2347
---
2347 Pottinger Vitasem Seed Drill
Dispatch
4 - 8 Business Days
Product Description
This Pottinger harrow-mounted seed drill is a combined rotary harrow and seed drill, so it tills the soil and plants the seed at the same time.
The seed tank can be opened, filled and drained. The stairs fold down to allow a Bruder man (not included but available separately) to climb up, the circular spike harrows and seed unit can be folded up, just like the real thing, in order to drive along the road.
Suitable for all Bruder tractors (except Roadmax).
Size: 25 x 20 x 12.5 cm
Made of excellent quality plastic.
Scale 1:16
Latest Products
You may also like