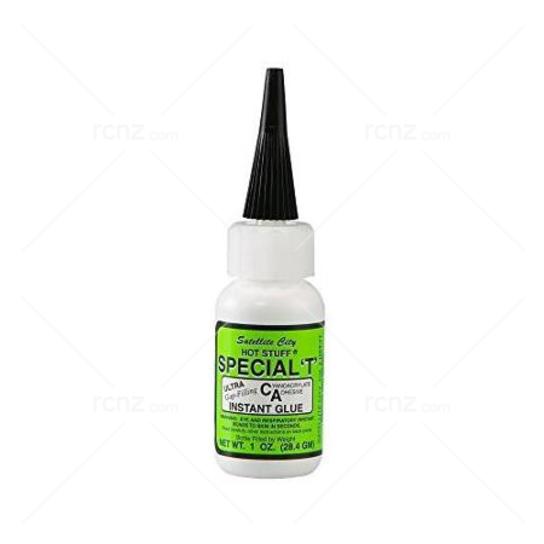 Hot Stuff - Special T Extra Thick CA Glue 2oz
Manufacturer: Hot Stuff Product Code: HST-4T
---
HST-4T Special T Extra Thick CA Glue 2oz
Dispatch
2 - 5 Business Days
This is a 2oz (56.7gm) bottle of HST-4T Hot Stuff Special T Thick CA Glue
from Satellite City.
1150-1500 viscosity similar to honey is ideal for gluing parts that
are missing pieces or don't fit well together
Preserves structural integrity, seals area from moisture and
contaminants, bonds something to exterior that would not fit
otherwise, covers and protects jagged edges and improves
appearance of surfaces
Bonds wood, metal, rubber, nitrile, composites, and many types of
plastics
Cures in roughly 20 seconds with accelerator, and 60 seconds without
accelerator
2oz (56.7gm) bottle of HST-4T Hot Stuff Special T Thick CA Glue
Curing Time: Approximately 20 seconds with accelerator
Approximately 60 seconds without accelerator
Shelf Life: 6 months for 1/4 oz bottles
9 months for 1/2 ounce bottles
1 year for 1,2, and 4oz bottles
Unopened bottle may be stored in freezer to extend shelf life.
For gap filling gluing requirements. Not recommended for parts that
fit well together-creates space between objects being glued.
WARNING; Contains cyanoacrylate. Avoid contact with skin and eyes.
In case of eye contact, flush with water for 15 minutes and call
physician. For skin contact, flush with water. If ingested, do not
induce vomiting, call a physician. If spilled on clothing flush
with large quantities of water. Use with adequate ventilation.
Keep out of reach of children.
Latest Products
You may also like