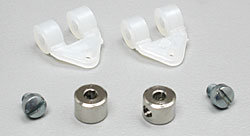 Dubro - Strip Aileron Horn Connect
Manufacturer: Dubro Product Code: 10-103
---
103 Strip aileron horn connect
2 piece
DUBRO STRIP AILERON HORN CONNECTORS Simplify your servo link
hookups with these natural nylon Strip Aileron Horn Connectors. Included
in the set:two Dura Collars, two slot head screws and two horn connectors.
Also available are Strip Aileron Horn Wires w/Nylon Bearings, for strip
aileron installation on high, mid or low wing planes.
Latest Products
You may also like