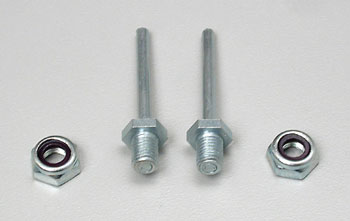 Dubro - 1 1/4 L x 1/8 Dia. Axle Shaft
Manufacturer: Dubro Product Code: 10-246
---
246 1 1/4 L x 1/8 dia. axle shaft
These are 1/8"x1.25" Axle Shafts.
FEATURES: Zinc plated spring steel construction.
INCLUDES: Two axle shafts Two 1/4"nylon lock nuts
REQUIRES: Minimal mechanical knowledge 7/16" wrench for the nuts 3/8" wrench for the axle
SPECS: Length: 1.25" (axle) .325 (thread) 1.7" (total length) Diameter: 1/8" (axle) 1/4"(thread)
COMMENTS: Bolts to any Dural landing gear with a 1/4" hole.
Latest Products
You may also like