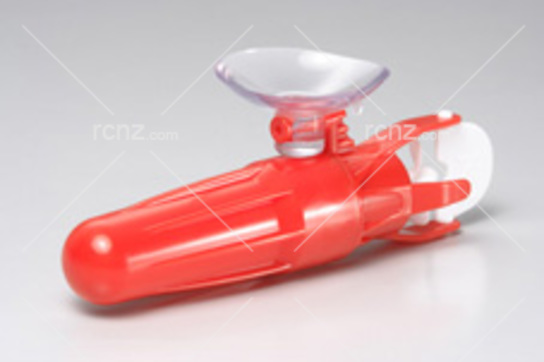 Tamiya - Submarine Motor Mini High Speed
Manufacturer: Tamiya Product Code: 70185
---
70185 Submarine motor mini high speed

Dispatch
2 - 6 Business Days
Much fun can be had with this new Submarine Motor Mini as it has more propulsion power than other previously released items.
The Fast Sub
Incomparison with Item 70178 Submarine Motor Mini (AAA Batteries), thisnew Submarine Motor Mini is approximately 40% faster. It can be usedwith a variety of aquatic items and offers plenty of speed and fun. Ithas excellent waterproof qualities and by completely closing the body,the motor switches on. At the rear there is a screw and a rudder thatallows you to set the direction of movement. Features a red body andwhite screw and rudder. Also, both attaching and detaching of thesuction cap is simple.
Features an easily distinguishable red casing with white screw and rudder.
35mm suction cap and a 50mm auxiliary board included.
At the rear of the body there is a rudder that allows you to set the direction of movement.
By completely closing the body, the motor switches on.
Due to different motor winding, the included motor is approximately 40% faster which produces its higher speed. (1m/3.2sec).
O-rings provide the Submarine Motor with excellent waterproof qualities.
Uses 1 AAA alkaline battery (sold separately) for an approximately 1 hour running time.
Length: 108mm, Width: 23mm, Weight: 41.2g
Latest Products
You may also like