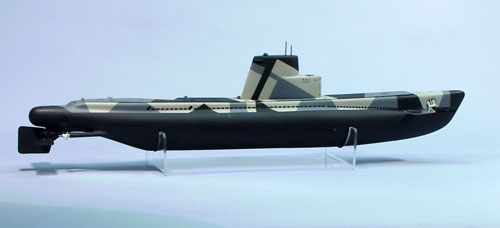 Dumas - USS Bluefish 33" Submarine Kit
Manufacturer: Dumas Product Code: DUM 1245
---
1245 USS Bluefish 33" submarine kit
This is an Electric Powered, Radio Controlled                  Dumas USS BLUEFISH (SS 222) Submarine Kit.                   It is a dynamic diving submarine model.                       Designed for advanced modelers.
FEATURES: Performed ABS plastic parts Drive line hardware kit included Step-by-step plans and instructions Decals
INCLUDES: Two 4.8V electric motors One instruction manual One set of plans (blueprints) Vacuum formed hull, deck and motor mount Vacuum formed sails (1/96-scale), and yes all submarines have sails. One stiff paper pattern One clear plastic (.020" for rudder, forward & rear dive planes) One decal set
REQUIRES: 1- 3-channel radio (Minimum) 1- 7.2V battery 1- Battery charger for 7.2V battery 1- Electronic Speed Control 1- Hobby knife (No. 11 and No. 16 blades) 1- Duco cement (see COMMENTS) 1- Pro thin CA glue 1- Pro thick CA glue 1- Pro CA activator 1- 12" ruler is an 18" modeler ruler) 1- Silicone, non-corrosive Ultra-Gray RTV (see COMMENTS) 1- Polyester resin (purchase at automotive store) 1- Sandpaper (60-80 grit), Medium-(100-120 grit), Fine-(220-440 grit) 1- Paint brush (1/4", 1") 1- Acetone (purchase at hardware store) 1- Clamp set 1- File, 1/4" diameter 1- 24" long straight edge 1- Can polyester glazing putty (Bondo)(purchase at automotive store) 1- Soldering iron 1- Harris Stay Bright Solder 1- 3/4" wide masking tape 1- Drill bit set (1/32nd (No.67) through, 1/2" diameter) 1- White lithium grease 1- Buckshot (No.4, .240-Diameter)(no more than 5 lbs) (purchase at gun supply store) 1- Petroleum jelly (tube, Not a jar) Clothes Pins
SPECS: Length: 33" (838mm) Beam: 4" (102mm) Height: 3-1/2" (89mm) (from top of deck to bottom of submarine) Weight: 5 lbs (2268g) ready-to-run
COMMENTS: Before you start any construction, Please Read The Entire Instruction Manual To Acquaint Yourself With The Building Sequence Of This Kit. Duco Cement: This is used to adhere plastic to stplasticyrene. It sets up fast, but requires at least over night to cure thoroughly. (purchase at a hardware store) Silicone: This is used to seal all seams where there is the possibility of water seeping in. It is also recommended to use Non-Corrosive Ultra-Gray RTV Silicone by Permatex. Any gasket style silicone will work, but make sure it is Non-Corrosive. A large selection can be found at an automotive store. Wood display stand shown with boat is not included.
Latest Products
You may also like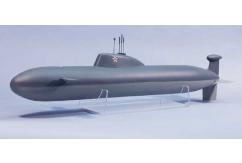 Ships in 4-8 Business Days