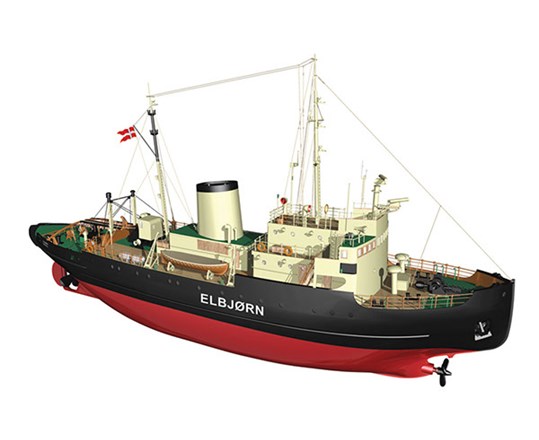 Billing - 1/75 Elbjorn Icebreaker Kit (R/C Capable)
Manufacturer: Billing Boats Product Code: BIL 01-00-0536
---
BIL 0536 1/75 Elbjorn Icebreaker Kit (R/C Capable) Experienced
Billing Boats (B536) Elbjorn Ice Breaker Ship - Model Boat & Fittings
Billing Boats (B536) Elbjorn Ice Breaker Ship - Model Boat & Fittings is a scale model ice breaker ship. Built by Frederikshavn Shipyard & Flydedok, keel laid April 16, 1952, launched in 1953. Displacement: 1,400 tons, length: 48m, beam: 12.5m, draught: 4.9m, crew: 33 man, machinery: 3 pieces. Frichs Diesel engines (diesel-electric) 2,648 HP.
In the period 1954 - 1996 M/S Elbj?rn was an active part of the Danish icebreaker service. The career as icebreaker ended abruptly on February 12th, 1996, when a DC dynamo exploded. Elbj?rn could proceed to port under its own power, but it was clear that its icebreaker days were over. Today, Elbj?rn at Aalborg?s waterfront, where the ship operatesas a restaurant and museum ship.
Kit Contents:
Plan with detailed building instructions German, English, French, Danish, Italian and Dutch, laser cut wood hull, decks from wood, plastic and wooden parts to finish the model, stern tubes with shafts and propellers.
Fittings Contents:
All fittings included (e.g. position lights, anchors, life-belt, etc.)
RC Functions:
Forwards - Stop - Backwards.
Rudder Control.
Specification:
Length 640 mm.
Width 165 mm.
Height 360 mm.
Scale 1:75.
Latest Products
You may also like