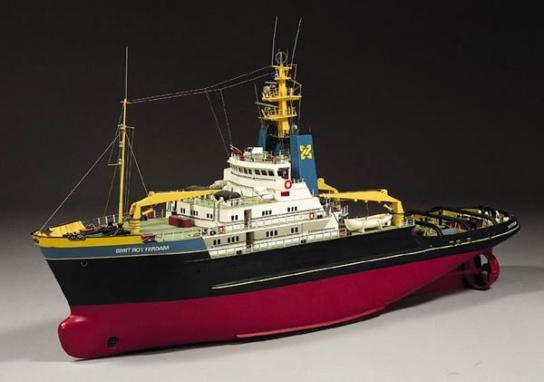 Billing - 1/75 Smit Rotterdam Boat Kit (R/C Capable)
Manufacturer: Billing Boats Product Code: BIL 01-00-0478
---
B478 1/75 Smit Rotterdam Boat Kit (R/C Capable)
B478 Smit Rotterdam Boat Kit
Height: 50cm
Length: 90cm
Width: 20cm
Scale: 1/75

Smit Rotterdam was built in 1975 for Smit International BV in Holland, and was at the time of its completion the largest and most powerful tugboat in the world - with a tonnage of 2,273 tons, a length of 75 m, a 22,000 HP engine and a top speed of 16.5 knots. The ship is built with bulb stern and stern nozzle; inboard equipment includes the most modern gear for navigation, steering and radio communication.

The Billing Boats kit of the Smit Rotterdam features: plank on frame construction, laser cut plywood keel and frame components, lasercut wooden superstructure and decks, hull and deck fittings in wood, brass and/or plastic, rigging cord in various sizes, Propshaft, rudder and propeller. Includes Full size plan sheets and an instruction manual with English Text.


Latest Products
You may also like