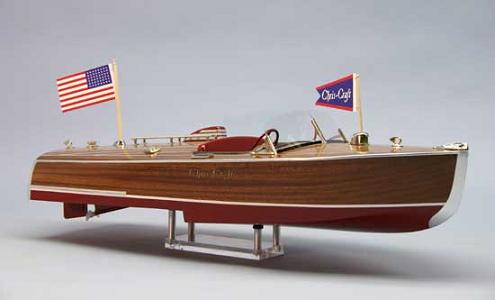 Dumas - 1941 Chris-Craft Hydroplane Kit 24"
Manufacturer: Dumas Product Code: DUM 1254
---
1254 1941 Chris-Craft Hydroplane Kit 24"
When the Chris-Craft Racing Hydroplane was first delivered, it was accompanied with a warning: "FOR RACING ONLY". Chris-Craft knew that they had a thoroughbred on their hands.

Equipped with a high-performance 121 horsepower KB engine shoehorned in, the three in-line carburetors protruded above the deck. The streamlined red fairing, designed to shield the carburetors, came to symbolize one of the fastest and most desirable Chris-Craft boats of the pre-war years.

This kit utilizes the popular expanded PVC and mahogany double planking method.

The new 16' hydroplane kit includes all the items you have come to expect from a Dumas kit. Step-by-Step instructions, flag, decal, chrome plated fittings and laser cut parts which we started using in our #1249 Racing Runabout kit.

So tame the wild beast inside you and build the new Chris-Craft Hydroplane, kit #1254, before it gets away!

Length: 24"
Beam: 8 1/2"
Scale: 1/8th
Running Hardware: Included in kit

*Additional parts required for R/C:
Power: #2025 High Speed Electric Motor
Speed Control: #8314 Electronic Speed Control
Battery: #8302 7.2v Ni Cad Flat Pack w/ #8315 charger
Minimum 2 Channel Radio Control w/ servos.
Latest Products
You may also like