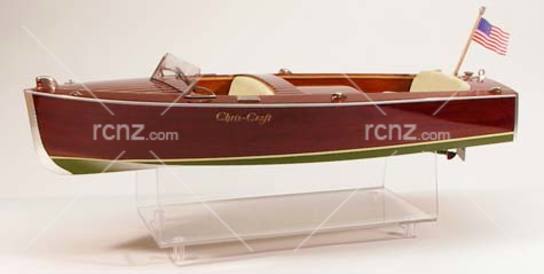 Dumas - 1947 Chris-Craft Utility Boat Kit (R/C Capable)
Manufacturer: Dumas Product Code: DUM 1240
---
1240 1947 Chris-Craft Utility Boat Kit (R/C Capable)
Dispatch
In Stock with Supplier - Ships in 4-8 Business Day
This sporty little speedster from the late 40s is an all-wood kit with a double-planked hull similar to our other Chris-Craft kits. Included in the kit are chrome-plated fittings, vacuum-formed seats, running hardware, and a complete set of flags and decals. The Utility Boat would be a great start into the Chris-Craft line. If you have built the other kits, this will make a nice addition to your fleet.
Kit #1240
Length: 24 inches
Beam: 9 inches
Scale: 1/8th
Running Hardware: Included in kit

*Additional parts required for R/C: (sold separately)

Power:  High Speed Electric Motor 
Speed Control:  Electronic Speed Control 
Battery:  7.2v NiCad Flatpack 
Charger:  Battery Charger 
Radio Control:  2 Channel Radio Control w/ servo
 *A word about the finish on our Chris-Crafts:

The products we use to finish the Chris-Craft models are available on our web site.  Our current finishing process uses two to three coats of epoxy finishing resin and multiple coats of Testors Wet Look clear lacquer. 
Latest Products
You may also like