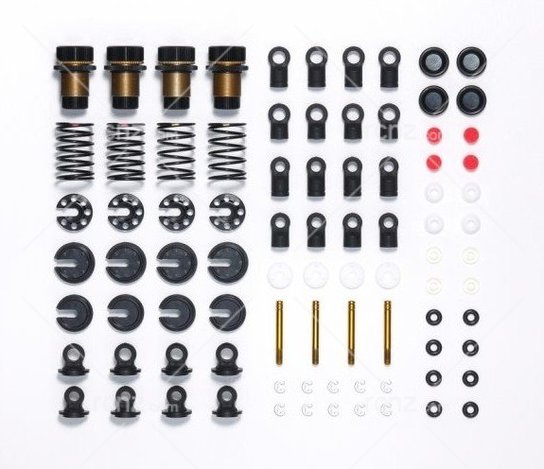 Tamiya - 1/10 M-Chassis Aluminium BB Dampers N (4pcs)
Manufacturer: Tamiya Product Code: 42355
---
1/10 M-Chassis Aluminium BB Dampers N (4pcs)
This is a tuned-up version of the popular M-chassis shock dampers from Item 42291, now partnered by the updated reinforced plastic V parts from Item 54871. Install them for enhanced grip on your M-Chassis or short damper setup Tamiya touring car model.

• Set contains parts for four shock dampers, including HL (HIGH LUBRICATION) cylinders, titanium-coated shafts and high-performance silicone O-rings (transparent).
• Damper cylinder diameter is 0.5mm wider than standard dampers, allowing 10% more oil.
• Shock dampers in this set are 4mm shorter in total than standard length dampers.
• Aluminum spring retainers included.
• Aluminum parts have a black finish.
• The V parts were completely overhauled when released as Item 54871, and offer a wide range of setup options. The designs and material also boost durability and squeeze even more performance out of your shock dampers.
• Comes with two each of yellow and red springs.
• Compatible with M-Chassis cars and touring cars employing damper stays for short dampers.
Latest Products
You may also like