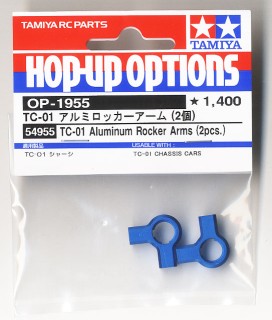 Tamiya - TC-01 Aluminium Rocker Arms
Manufacturer: Tamiya Product Code: 54955
---
TC-01 Aluminium Rocker Arms
This Hop-Up Option is for use with the TC-01 chassis, and helps to contribute to improved suspension feel. Compared to the standard plastic parts, these parts have less flex which contribute to more direct feel from the suspension.

• Aluminum Rocker Arms x2
• Lightweight and rigid aluminum arms can be used in place of kit-standard plastic components, boosting damper performance and improving suspension feel.
• Parts have Tamiya blue anodized finish.
• Compatible with TC-01 chassis cars.
• Requires TWO sets to compete one car with front and rear rocker arms.
You may also like