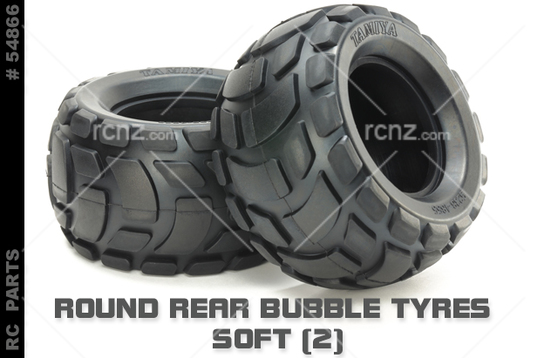 Tamiya - Round Rear Bubble Tyres Soft (Pair)
Manufacturer: Tamiya Product Code: 54866
---
54866 Round Rear Bubble Tyres Soft (Pair)
Dispatch
Available - Ships in 2-5 Business Days
This is a soft compound tire variant designed to be used on Tamiya's Comical series of R/C products. Compared to the stock tire offered in the Comical Grass Hopper and Hornet, this set offers enhanced traction.

• Round Block Rear Bubble Tires (Soft) x2
• Tire width/diameter: 56mm/98mm
• Tires have a distinctive rounded "bubble" shape for a fun look and drive.
• Round block pattern makes for excellent grip and drive.
• Soft compound maximizes grip, even on poorer surfaces.
• Compatible with WR-02CB, WR-02C, WR-02G, GF-01 and G6-01 chassis models. Please note standard
• WR-02 chassis are not compatible.
Latest Products
You may also like