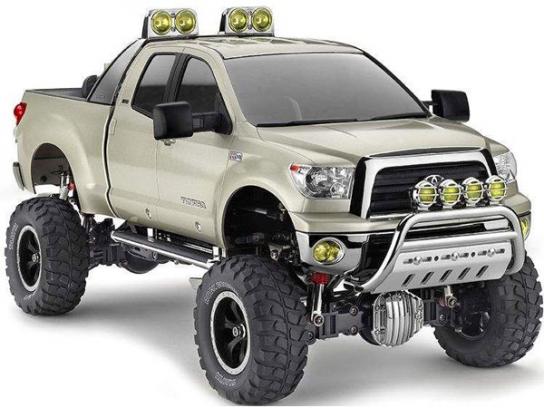 Tamiya - 1/10 Toyota Tundra Highlift 4x4 3-Speed Kit
Manufacturer: Tamiya Product Code: 58415
---
58415 1/10 Toyota Tundra Highlift 4x4 3-Speed Kit
In February 2007, after a full model change, Toyota released a full-sized American pick-up truck. It was the first time in Toyota's history that an "All American Made" pick-up truck was sold. With the rising crude oil prices and the increasing demand for economical Japanese cars, the sales of the Tundra in the Pick-Up truck market was quite strong. This model precisely shows off the Tundra's modern looks and its great ability to take on any terrain with its excellent drive system. Tamiya's truck model of the Tundra comes as an accurately reproduced Double Cab version. Furthermore, this model Tundra comes with option parts allowing the user to raise the body in the same manner as the actual pick-up truck.
RC 1:10, Truck, Electric-Powered, Off Road
Feature:
The durable ladder frame chassis features steel channels and resin cross members for high strength.
Equipped amidships for a lower center of gravity is a 3-speed transmission allowing gear changing and realistic low speed driving.
Propeller shafts and slipper clutch efficiently transfer power to all wheels on any type ofterrain.
Powered by a type 540 motor. (included)
The full-time 4WD guarantees road hugging performance.
The differential can be locked in place to enable improved performance on any surface it may face.
The newly designed chrome plated wheels with bead lock rings precisely catch the essence of the Pick-up truck. Because the Tundra is fitted with similar side-block tires like the F-350 (58397), it is possible to change them with any other cross country tires.
Use TS Sprays to paint your Tundra the desired color
4-Channel transmitter, ESC, and running battery & charger are separately available.
Loading the separately available Pick-Up Truck Multi-Function Unit (Item 53957) MFC-02 will further enhance the truck and put a wide range of realistic light, sound, and vibration effects at your fingertips.
For dressing-up the model, snow boards (2) and roof racks are included.
METAL & METAL PLATED PARTS: An abundance of metal parts such as ladder frame, under guard, front guard, leaf springs and aluminum friction dampers are included.
Roll bar, road light, front grille, front/rear bumper, side-step, diff guard, wheels and muffler feature metal-plated finish.
ADD LED LIGHTS (SOLD SEPERATELY): Use Multi-Function Unit (currently in development) to depict working headlights, tail lights and roll bar lights for even more incredible realism. (Multi-Function Unit is planned to include LED lights).
MULTI FUNCTION UNIT (CURRENTLY IN DEVELOPMENT): Currently in development, with release date To Be Announced, this Multi Function Unit will bring even more enjoyment to the operation of the R/C Toyota Tundra High Lift. Featuring realistic sound effects recorded from actual vehicles, controllable LED lights and other movement effects, this unit will greatly expand the potential of your Toyota Tundra High Lift.
LADDER FRAME: Durable and realistic ladder frame consists of steel channel and resin cross member.
PROPELLER SHAFTS: F/R propeller shafts feature universal joint to efficiently transmit power even if suspension is moving up and down.
QUICK BATTERY HOLDER: Battery held in low position for excellent weight balance and stability.
Easy access holder allows running battery to be exchanged without removing body.
4WS STEERING ROD: 4 wheel steering can be enabled by adding kit supplied rear axle tension rod.
4-wheel steering enables even tighter turning radius, perfect when using truck indoors or in confined space.
WHEELS & TIRES: Newly designed monster truck tires feature lug pattern suited for driving on rough surfaces.
Apply cement to wheels and tires when running on rough terrain.
Worn out wheel hubs can be replaced with #53056 Pin type Wheel Adapter.
3-SPEED TRANSMISSION: Newly designed 3-speed transmission provides smooth low speed running, and allows gearchanging while running. Low gear > 2nd gear > Top gear1:64.39 > 1:35.20 > 1:21.14
SLIPPER CLUTCH: Includes slipper clutch as standard part to protectgears during tough off-road running.
DIFFERENTIAL GEAR: Durable resin gear case with integrated die-cast differential gear.
DIFFERENTIAL LOCK: Differential lock, essential for driving on rough roads, may be easily enabled by simply removing F/R diff case covers and removing screw pins.
By using differential lock, drive power is transmitted even if wheels on one side are not grounded.
LEAF SPRING SUSPENSION: F/R suspension with friction dampers allows tension adjustment by altering number of leaf springs.
FRICTION DAMPERS: Features red anodized aluminum cylinder. Damping effect can be adjusted by applying separately available Friction Damper Grease and adding o-rings. Select according to ground conditions and leaf spring number.
Standard: normal running Default settings.
Soft: low-speed, high grip running Use 2 leaf springs and adjust tension using damper grease (soft) #53174.
Hard: stable and high-speed running Use 5 leaf springs and apply damper grease (medium) #53175 or (hard) #53176.
BEARINGS: Kit includes a total of 42pcs of bearings (35pcs x 1150, 4pcs x 1260, 2pcs x 850 size metal and 1pc of 1050 size ball bearings). Metal bearings require periodic application of grease to maintain performance. Separately available ball bearings do not require this treatment, and are highly
MOTOR: This kit is designed to be used only with pre-supplied type 540 motor and pinion gear.
Specification:
Vehicle:
Length: 500mm
Width: 216mm
Height: 238mm
Weight: 3.1kg
Include:
Snow Boards (2) and Roof Racks
540 Motor
Decals
Instruction
CLICK HERE for a radio, servo, battery, charger & paint combo
You may also like