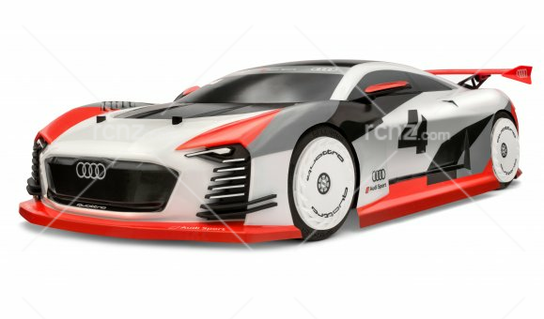 HPI - 1/10 Sport 3 FLUX Audi e-Tron Vision GT Kit
Manufacturer: HPI Racing Product Code: HPI 160202
---
160202 1/10 Sport 3 FLUX Audi e-Tron Vision GT Kit (pre-built, requires radio set, battery & charger)
Dispatch
In Stock Now - Ships within a Day
This is the HPI Racing RS4 Sport 3 Flux Audi E-Tron Vision GT 1/10 Scale Brushless RTR, HPI's most ambitious, detailed and realistic official scale replica partnership yet! When Audi designers pushed themselves to turn a best selling video game car into a reality, HPI's designers followed suit with the dream that this amazing electric race machine could also hit the the real-world track in 1:10th form!
Since the dawn of Formula E, electric powered racing has been growing across the motorsport world which is music to our ears as we've been racing with electric power for over 30 years! So what better way to take RC to a generation of sim racers than with the very real, incredibly fast, utterly sublime Sport 3 FLUX Audi e-tron Vision GT!
The Sport 3 FLUX features full-time shaft driven 4WD, a fully sealed drivetrain, waterproof 2.4 GHz electronics/radio gear, fully independent double wishbone suspension and adjustable oil-filled shocks so it's Ready to Rock in any condition. Propelling the Sport 3 to speeds over 113km/h (70mph) is the Flux MMH-4000KV motor, controlled by the waterproof FLUX EMH-3S LiPo-ready speed controller. An enclosed box houses the 2.4GHz radio receiver, ensuring that you have constant control through the HPI pistol-grip steering wheel transmitter.
AUDI E-TRON VISION GT
Audi designers first created the "Audi e-tron Vision Gran Turismo" as part of a competition for the popular video game's 15th anniversary. So successful was the virtual car that Audi decided it should be the first concept car of this range to be deployed to real-world race tracks as a fully functional vehicle. Numerous appearances followed, including serving as Race Taxi at Formula E races in 2018.
Still as popular as ever in "sim form," this car is enjoyed the world over by countless fans. However in the flesh, the priceless one-of-a-kind car now lives in the Audi Museum in Ingolstadt, only to be driven by a privileged few....Until now!!
OFFICIALLY LICENSED UNIQUE AUDI SPORT REPLICA WHEELS
Not only is the e-tron one of our most ambitious and detailed bodies, our designers have captured every last detail, right down to the Quattro emblazoned racing wheels. Wrapped around these beauties is a set of treaded rubber tires for maximum grip on just about every paved surface. You'll get great acceleration, braking and cornering performance from these semi-slick, grippy rubber tires!
FEATURES:
ONE-PIECE MOLDED CHASSIS
LOW PROFILE LAYOUT DESIGN
HPI FLUX TECHNOLOGY FOR ULTRA-FAST SPEEDS
FULL-TIME FOUR-WHEEL DRIVE
3S LIPO CAPABLE
SEALED SHAFT DRIVETRAIN
BOTTOM-ACCESS DRIVESHAFT
EASY ACCESS DIFFERENTIALS
4-GEAR METAL DIFFS
DOUBLE-WISHBONE FULLY ADJUSTABLE SUSPENSION
MULTIPLE SHOCK POSITIONS
OIL-FILLED THREADED SHOCKS
TOUGH FRONT END SUSPENSION
TUNABLE REAR SUSPENSION
DOUBLE BELLCRANK STEERING
RUGGED SPRING-LOADED SERVO SAVER
ALUMINUM MOTOR MOUNT
METAL-SHIELDED BALL BEARINGS
RUGGED FRONT BUMPER
SPECIFICATIONS:
Length: 431mm (17")
Height: 127mm (5")
Width: 200mm (7.9")
Wheelbase: 254mm (10")
REQUIRES (See "PRODUCT ACCESSORIES" Below for Suggestions):
2S 7.4V or 3S 11.1V LiPo Battery with Dean's Plug (T-Plug)
Suitable Charger for Battery Selected
Latest Products
You may also like