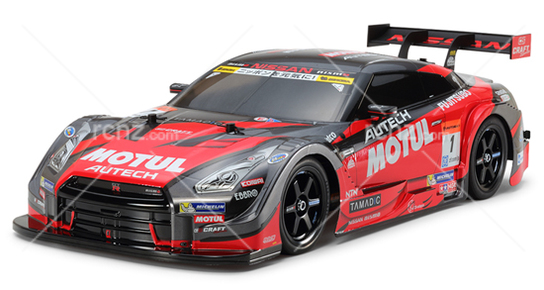 Tamiya - 1/10 Motul Autech GT-R TT-02 Kit
Manufacturer: Tamiya Product Code: 58625
---
58625 1/10 Motul Autech GT-R TT-02 Kit
This Radio Control assembly kit model recreates the Motul Autech sponsored NISMO GT-R. The 2014 spec car won the Super GT Series GT500 class championship and is looking to capture a second championship in 2015. With Super GT and the popular DTM (German Touring Car Masters) working on bringing their regulations in line with one another, Super GT appears set to garner even more attention, and Tamiya's R/C replica allows fans of the series to enjoy racing on parking lots or prepared circuits.
Tamiya has faithfully reproduced this sleek racing machine in 1/10 scale on the TT-02 entry level touring car chassis. The TT-02 chassis is the successor to the TT-01 as it incorporates many new features to make it even easier for the new R/C kit builder to assemble and learn from. The TT-02 chassis performs well as cornering and overall speed has been enhanced to take advantage of new electronics available on the market. In addition to the TT-02 being an ideal platform to start from, R/C hobbyists can expand its potential by adding many of the Ho-Up-Options available to increase the cars speed and performance.
Specifications
●Length: 472mm, Width: 188mm, Height: 124mm ●Wheelbase: 257mm ●Tire Width/Diameter: 27/67mm (Front & Rear) ●Bathtub-type Frame ●Shaft-Driven 4WD ●Front/Rear 4-Bevel Resin Differentials ●3-Piece Steering Tie-Rod ●4-Wheel Double Wishbone Suspension ●Front/Rear Friction Dampers ●Gear Ratio = 8.27:1 (10 further ratios from 11.38:1 to 7.28:1 possible with use of separately-sold pinions) ●Type 540 Motor ●Electronic Speed Controller (ESC) is sold separately.
Separately Required Items
●2-Channel R/C Unit with ESC ●Battery Pack & Charger
Click Here for a Futaba Radio set, servo, battery and charger
Latest Products
You may also like